Promotion of Digitalization and Technologies
Policy
Various industries are focusing on the re-examination of work styles and the improvement of productivity per person due to the rapid decline in population brought about by the declining birthrate and aging population of Japan. In the logistics industry, while the volume of packages in the e-commerce market is continuously growing, it is becoming more difficult every year to secure human resources such as drivers. The Group is also promoting automation and labor-saving through the use of technology in order to continue stably providing infrastructure in the form of logistics.
Specifically, we are actively engaged in the introduction of technology to strengthen services coordinated throughout the Group utilizing initiatives such as GOAL®, implement front and back-office business reforms, and strengthen IT governance.
Systems
Within the SG Holdings Group, SG Systems performs system development and maintenance for Group companies. In order to focus on the operation of business utilizing the Group's comprehensive strength including GOAL® in future, it is becoming increasingly important to utilize IT throughout the entire Group.
For this reason, SG Holdings established the IT Control Unit in April 2019 to promote the improvement of efficiency of our operations and labor-saving utilizing new technologies such as RPA, AI, and robotics. Furthermore, by taking advantage of this know-how, we will utilize new technologies such as RPA, AI, and robotics to provide solutions for improving the efficiency of operations and labor-saving not only within the Group, but also to customers outside the Group.
Goals and Results
Company
Fiscal 2019 Goals
Results in Fiscal 2019
SG Holdings Group
Strengthen services, improve the efficiency of operations, and enhance labor-saving using AI, logistics, and other new technologies

Build a matching platform for drivers and senders
Launch sharing fulfillment service
Develop a telematics platform
Start cutting-edge joint R&D using AI,
Etc.
Initiatives
Introduction of Technology in Logistics Facility
Matching Platform to Connect Drivers with Senders
Sagawa Express is building its Transport Management System (TMS) into a new pillar of business. Aimed primarily at corporate customers, TMS is an innovative system which comprehensively manages a broad range of transport services needed by corporate customers, including deliveries of special items and items too large for normal express package delivery services, JIT deliveries, joint deliveries, and small-lot charter services.
As part of the TMS development, in September 2019, we formed a business and capital alliance with CBcloud Co., Ltd., a developer of platforms to rapidly match light cargo transport companies with senders, as well as dynamic management systems which leverage AI and blockchain technologies. Based on the alliance, Sagawa Express has evolved the CBcloud matching platform into its dedicated, efficient light-vehicle charter matching service, which is now offered nationwide in Japan.
The alliance has made it possible for business partners which require same-day and other urgent shipments to access light cargo transport network 24 hours a day, 365 days a year. The services also make it possible to immediately confirm transport charges, pick-up times and shipment status real-time for integrated shipment management.
Seamless EC Platforms (Sharing Fulfillment Services)
In January 2020, SG Holdings Group opened its next-generation logistics center X FRONTIER®. The fifth floor of the facility boasts cutting-edge robotics from Sagawa Global Logistics Co., Ltd. Using these systems, we provide a seamless EC platform in which customers can use facilities and space on a pay-as-you-go basis. Compared with facilities of the same size, X Frontier has enhanced labor-saving by about 50% through the use of automated guided vehicles (AGVs) and automated packaging systems. Using this platform, customers can launch EC businesses employing small-scale logistics without the typical upfront materials handling costs and fixed costs for space usage fees, thereby achieving the same levels of quality as major mail-order companies.
The robotics and other technologies deployed at the smart logistics warehouses include automated storage, automated conveyors (shelving and goods conveyance), automated packaging, conveyors, gate assortment systems (gate sorters systems for erroneous picking prevention), warehouse management systems (inventory management), and systems to coordinate and integrate various robotics systems. Following the sorting process, these various systems are linked to platforms operated by Sagawa Express (in Japan) and SGH Global Japan (outside Japan) to ensure an integrated logistics function.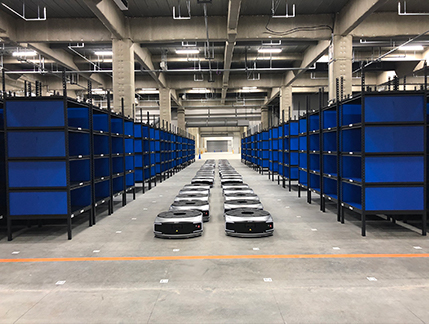 Cloud Telematics*1 Platform
Cargo transport companies using trucks and other vehicles are required to perform meticulous transport management operations in order to ensure safe driving and transport through compliance with Japan's Motor Truck Transportation Business Act, Road Traffic Act, and other regulations. Digital tachographs*2 are used to record driving data, including three statutory elements (speed, time, and distance), along with sudden acceleration and deceleration, abrupt steering maneuvers, excessive speed and other information about individual driver behaviors and habits. With these data, companies can prevent accidents by providing drivers with appropriate safety guidance. Typically, the transport management systems offered by digital tachograph manufacturers offer limited compatibility with third-party systems and devices. To solve this issue, SG Systems developed the Biz-Fleet telematics platform which boasts a cloud-based architecture enabling compatibility with a variety of digital tachograph systems. In addition to digital tachograph management, Biz-Fleet integrates breath alcohol checks, driving recorders, smartphones and other IoT devices, all of which can be collected and managed seamlessly in the cloud. Sagawa Express has deployed Biz-Fleet successfully. Operation managers can connect remotely with drivers located at external warehouses separated from sales offices through "IT rollcalls," while the daily driving records can be automatically collected and managed. These features improve the efficiency of daily operations, while also leading to fuel-saving during driving by enabling managers to provide guidance to drivers through the digital tachographs.
*1Refers to onboard data systems which provide communication functions to receive data and contents and provide two-way communications
*2Digital driving recording systems
Using AI to Resolve Absence Deliveries Issues
In October 2019, Sagawa Express began studying the implementation of innovative technology aimed at reducing the number of absence redeliveries. The project leverages industry-academia joint research on using power meter data and AI to determine whether residents are at home or not, and then prevent delivery when they are away from home. From fall 2020, Sagawa Express will begin demonstration tests on actual delivery routes. In its General Logistics Policy Promotion Program, the Ministry of Land, Infrastructure, Transport and Tourism has set a target of reducing redelivery of express packages (reduction of absence redeliveries by 13%). These new technologies will have a significant benefit in reaching that goal, as well as reducing CO2 emissions and relieving the driver shortage problem.
*According to the Ministry of Land, Infrastructure, Transport and Tourism, the rate of deliveries to absent recipients is about 20% of all express package deliveries to homes, and about 25% of all package delivery driving (by distance) is for package redelivery, which equates to the work of about 90,000 people annually (about 180 million work hours annually).
---
Mitsuboshi telegram service combining traditional crafts with telegrams