Message from the Chairperson

Greetings
At SG Holdings Group, we view the logistics business as part of our social infrastructure. The SG Holdings Group Charter of Corporate Conduct, which is a statement of our corporate philosophy, discusses "stakeholder management"—our efforts to meet the expectations of all the stakeholders of our business: customers, employees, local communities, shareholders, and business partners. We are advancing our efforts to realize a sustainable society, from a variety of perspectives.
In recent years, the logistics business has become widely accepted as part of our social infrastructure. Fortunately for us, although society has been changing dramatically, our company has been able to maintain a solid business. This is a very happy outcome, but we also have a strong sense of responsibility that society's expectations of our industry as a whole have risen sharply.
In order to present our CSR activities to all our stakeholders, in this CSR Report, we exhaustively address the efforts we are making to sustain our society and our Group, aligned with the Group's seven material CSR issues. If this report helps to communicate our message and deepen our stakeholders' understanding, we will be more than happy. We hope we can continue to rely on your support in the future.
Top Commitment: President
Become Asia's Leading Comprehensive Logistics Group
At SG Holdings Group, since our founding in 1957, we have taken seriously our mission to take responsibility for logistics as a provider of social infrastructure. These days, the business environment is changing dramatically, but we continue to make progress, step by step, toward the realization of our long-term vision, to "Become Asia's Leading Comprehensive Logistics Group."
In regard to the external environment surrounding us, emerging economies are growing rapidly, IT is becoming further sophisticated, and logistics is becoming even faster and more complicated. Meanwhile, as e-commerce is growing fast, the importance of logistics as social infrastructure is increasing. Our customers expect more from us. More specifically, the values they seek are not only speed and accuracy; they also need solutions to all the logistics issues they face in their supply chains.
FY2018 marked the final year of our Mid-term Management Plan "First Stage 2018," in which we sought to strengthen our ability to provide solutions across the full range of logistics, building on the strength of our Sales Drivers®, and our advanced logistics project team, GOAL® (GO Advanced Logistics). Due to the aging and shrinking of Japan's population, the nation faces a shortage of labor. We will work with our partner companies for our employees' work style reforms, so that we can maintain and improve quality in logistics while ensuring appropriate pricing. We are already seeing some success in our transportation infrastructure enhancement efforts. In December 2017, our company was listed on the first section of the Tokyo Stock Exchange. Going forward, we must continue to earn the trust of our stakeholders, by strengthening compliance and corporate governance.
Goals: Advancing Comprehensive Logistics Solutions and Enhancing Our Management Platform
Following on the heels of First Stage 2018, our new Mid-term Management Plan starting in FY2019, Second Stage 2021, has two main focus points: advancement of comprehensive logistics solutions and enhancement of our management platform.
"Advancing comprehensive logistics solutions" means building on the success of GOAL®, for which the entire group functions as a single unit. To get there, we are training our Sales Drivers® to get the information that emerges from conversations with customers, so we can use it to propose solutions to the problems they are facing. Another important thing is to bolster Group companies in mastering their specializations. By enhancing the acuity of our Sales Drivers® and the specialization of Group companies, we will be able to expand the areas in which we can propose ideas to our customers.
One important element of "enhancement of our management platform" is the opening of our next-generation large-scale logistics center X FRONTIER, which began operations sequentially after being completed in January 2020. As a transfer center for Sagawa Express, this location will expand our capacity for express package delivery services. At the same time, we are undertaking 3PL (which generally refers to proposing a transformation of logistics to shippers, and then being commissioned to provide integrated operations of their logistics), international logistics, and logistics involving large items. Organic integration of these various functions will enable us to create new kinds of value. As the problem of labor shortage is most likely to continue, we propose to implement new technologies such as RPA, AI, and robotics in a wide variety of locations, achieving greater efficiency and labor savings.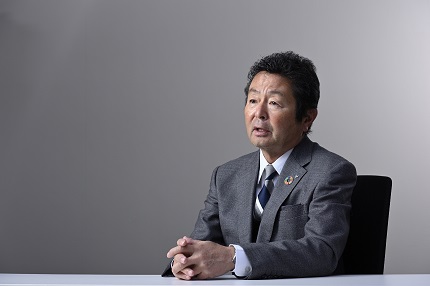 In addition, with over 90,000 employees globally, our people are an indispensable element of our management platform. We put people at the very center of our business. We are working hard to create a workplace environment where a diverse workforce made up of people with different backgrounds and needs can all work comfortably and productively. For example, we aim to have a flat organization culture, so we have introduced systems for bottom-up generation of ideas, and we have created opportunities for employees to exchange opinions with the management. Besides, our efforts for work style reforms, and our human resources systems are ongoing. Our employees are highly motivated, and they enjoy an environment where they can take on new challenges.
Looking Ahead to Sustainable Growth, Making SDGs Contribution a Focus Point
In the past, our Group has striven to make a positive contribution to social issues through our business activities. As I have already said, our efforts to realize work style reforms and to create proper transportation infrastructure are aimed at achieving the sustainable development goals (SDGs), which are universally accepted. In Second Stage 2021, we have adopted "contribution to SDGs" as a goal for the first time. We have thought that doing business while maintaining the health of society, which is our business platform, helps us to maximize the value we can provide to our stakeholders. With this belief in mind, we will also commit ourselves to resolve our seven material CSR issues, while sharpening and clarifying our goals and policies. More specifically, as a comprehensive logistics group, our top priorities are the way we treat our people, and our concern for the environment. Our policies regarding human resources are as I have already described. Regarding the environment, in May 2019 we endorsed the recommendations of the TCFD,* and we plan to undertake deeper study of the risks and opportunities presented by climate change.
For the Group as a whole, among the matters to be considered are refinement of our environmental data, and medium- to long-term goal setting. In the international context, we are working with our business partners to make further progress in dealing with human rights, and corruption. The mission of the SG Holding Group is to create new value through logistics solutions, holding up our corner of the social infrastructure that supports production and distribution. In our view, this is something that will not change. We aim to be a company that society needs, by turning customer information into business, in Asia and the rest of the world. That is what we mean by "Become Asia's Leading Comprehensive Logistics Group." We appreciate the continued support of all our stakeholders as we go forward together.
*TCFD: Task Force on Climate-related Financial Disclosures, established by the Financial Stability Board (FSB). Its report, recommending that companies disclose, in their annual reports, climate-related information that may affect their financial results, was published in June 2017.