Policy
The SG Holdings Group believes that quality underlies safe and secure services. To deliver services responding to the trust of customers and employees, we are establishing systems and mechanisms that improve quality according to the characteristics of each Group company.
Systems
The Group has built quality management systems to match the characteristics of each Group company. For example, Sagawa Express, which is the core of the Group, has established a Quality Assurance Department in its head office, and also appointed quality managers in 18 branches and 427 sales offices nationwide. These quality managers aim to maintain and improve quality by periodically checking the level of service.
Goals and Results
Boundary
Medium- to Long-term Goal
Fiscal 2020 Goal
Fiscal 2019 Results
Sagawa Express
Maintenance and
improvement of service quality
Improvement of time quality, freight quality,
and response quality
(compared to previous fiscal year)
As shown in following table
Quality Item (Sagawa Express)
Scope
Results
Time quality
(1) Time-band service
Improved
(2) Absence redelivery
(3) Morning commercial delivery
Freight quality
(4) Outbound freight accidents
Improved
Response quality
(5) Requests from customers
Improved
Sagawa Express, the core of the Group, is conducting activities to improve quality in terms of three categories: time, freight, and response. In fiscal 2019, even as the number of packages handled increased due to an increase in the consumption tax rate and other factors, improvements were made compared to the previous fiscal year in all three categories. To respond to the diversification of customer needs and growing demand for higher quality, we will continue to sincerely listen to customers' voices while complying with existing quality standards, endeavoring to further improve customer satisfaction.
Initiatives
Compliance with Quality Items (Sagawa Express)
Sagawa Express conducts quality management based on ISO 9001. The company has established five quality items (see previous page), and each month it tracks numerical targets unified nationwide. In the event a problem arises with these quality items, this is shared across branches and sales offices in the weekly companywide morning meeting to ensure action is taken immediately. Furthermore, nationwide quality promotion personnel meetings are held monthly to consider analysis of quality-related problems and measures to prevent their recurrence. Internal audits of all sales offices in Japan are conducted annually to check over 70 items. The internal auditors are qualified personnel within the company, who currently number approximately 3,000 employees.
Examples of Quality Check Functions (Sagawa Express)
Frequency
Name
Purpose
Participants and Personnel in Charge
Head office
Branches
Sales Offices
Internal Auditors
Weekly
Quality report at companywide morning meeting
Report the state of achievement of quality items. Immediately respond if there are any problems.
Directors General Managers
Branch Managers
Sales Office Managers
Monthly
Nationwide quality promotion personnel meeting
Consider analysis of quality-related problems and measures to prevent their recurrence.
Directors Quality Assurance Department Sales Department Transportation Network Department
Quality Managers
Quality Managers
Annually
Internal audit
Check quality of over 70 items in all sales offices nationwide. Internal auditors are qualified personnel within the company (approximately 3,000 qualified employees)
yes
Mechanisms for Fully Applying Customer Feedback (Sagawa Express)
Sagawa Express has established a Customer Service Sections in each of its sales offices to create a system for swiftly responding to requests from customers. Furthermore, comments and requests made by customers via the Website or over the telephone (approximately 42,000 per year) are utilized by the Quality Assurance Department in Head Office to improve customer satisfaction.
Quality Championships (SG Moving)
SG Moving, which provides services such as moving transportation, installation transportation, and special transportation, holds the Quality Championships every year in an effort to improve the skills and manners of its employees. The championships were held for the eighth time in fiscal 2019. A total of 22 employees in 11 teams representing sales offices from around Japan, including those from partner companies, made it to the finals, where they participated in a combined event covering the packing, assembly (slide hinges adjustment*), and carrying of large-sized furniture and electronic appliances. The teams competed for the best ranking based on the scores given by judges and the total number of points received in a survey of the audience.
*Slide hinge adjustment: The competition simulated situations where employees assembled furniture and adjusted slide hinges to correct the positioning of furniture doors.
Mechanic Contest (SG Motors)
SG Motors, which operates vehicle maintenance, vehicle sales, and body sales businesses, held a Mechanic Contest in which mechanics from each site competed based on their vehicle inspection and diagnosis skills and knowledge. In the second contest held in fiscal 2019, 34 mechanics in 17 teams were chosen from among approximately 500 mechanics at nationwide business sites. The contest was comprised of written and practical tests.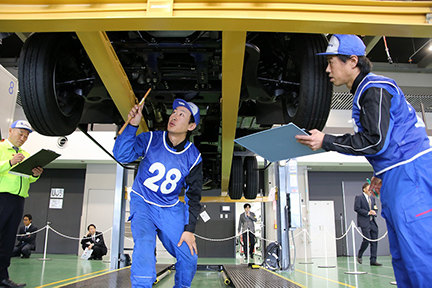 Forklift Operator Skill Contest (Sagawa Global Logistics)
Sagawa Global Logistics, which operates a logistics business in Japan, holds a Forklift Operator Skill Contest every year. The purpose of the contest is to improve the safety awareness of forklift operators and to improve their operating skills and inspection skills.
---
Providing Safe and Secure Services