CSR Promotional Structure
SG Holdings plans CSR for the Group as a whole, and manages and supervises the initiatives of each Group company based on this.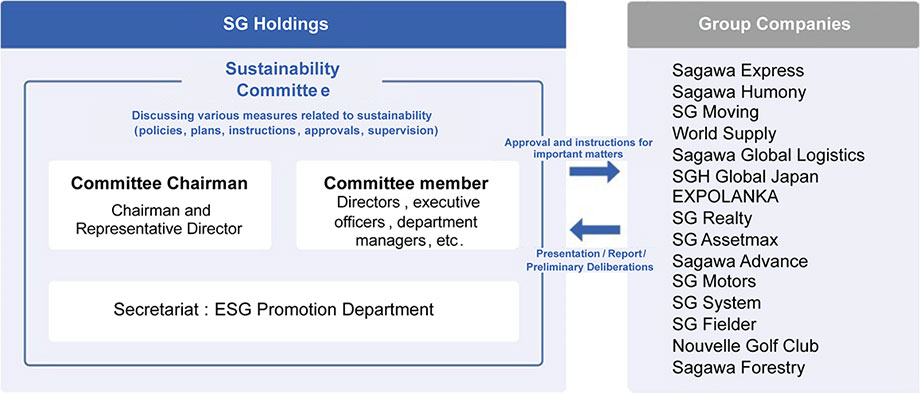 CSR Committee
The SG Holdings Group has set up a CSR Committee for the purpose of implementing CSR on a management level. The committee consists of Directors and the heads of Corporate Planning and departments in charge of CSR, with meetings held quarterly. Discussion of important measures and management systems related to CSR leads to continuous improvement of initiatives.
Members
Chairperson

Chairperson and CEO, SG Holdings Co., Ltd.

Committee members

Seven Directors, two Executive Officer
and two General Managers* of SG Holdings Co., Ltd.
(Fiscal 2019)

*The title name was changed in July 2020.

Other attendees

One Director of Sagawa Forestry Co., Ltd.
Meetings Held in Fiscal 2019
1st

May 2019

2nd

October 2019

3rd

January 2020

4th

March 2020
Main agenda items
Report of matters relating to CSR management
Progress report on CSR activities
Meeting of CSR Managers from Group Companies in Japan
The Group regularly holds meetings of CSR managers from the Group's companies in Japan to share information on the CSR activities of each company and to hold study sessions, inviting outside lecturers.
Overseas Group companies are individually provided with occasions for the sharing of information and study sessions.
Meetings Held in Fiscal 2019
1st

September 2019 with participation by 15 companies

2nd

February 2020  

*distribution of documents only
Main agenda items
Collection of environmental data
ESG evaluation
Seminars related to SDGs
CSR targets