Policy
The SG Holdings Group positions "coexistence of society and nature" as an important environmental initiative, and is engaged in a wide range of environmental communication activities primarily targeting children who will be responsible for the next generation in accordance with its Environmental Policy.
Initiatives
Environmental Awareness for the Next Generation
Takao 100-Year Forest Project
Sagawa Express is continually holding nature experience training at the Takao 100-Year Forest (in Tokyo) for children who will represent the next generation to learn about connections between nature and people through experiences in undeveloped woodlands. Around 200 children participated in fiscal 2019.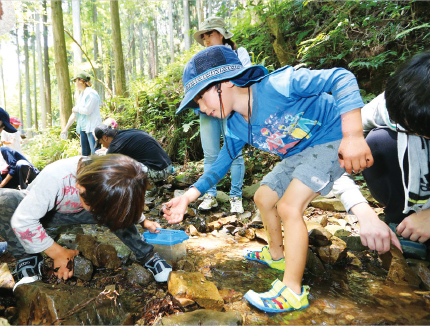 Rice Cultivation Experience Activities
The Group also provides rice cultivation experience activities in Moriyama City in Shiga prefecture to help children learn about the blessings of nature and the rich ecosystem growing in rice paddies. Employees and their families, along with local residents, experience traditional rice farming, from planting to harvesting to drying. The activities drew 231 participants in fiscal 2019.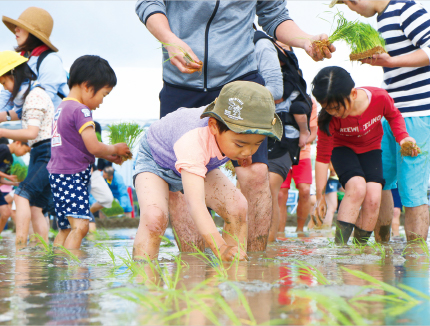 On-demand Classes on the Environment
Sagawa Express provides on-demand classes on the environment for elementary schools and kindergartens. A total of 162 classes were held nationwide with around 20,000 participants in fiscal 2019. Eco activities and forest preservation activities conducted through the logistics of Sagawa Express were introduced with a mixture of quizzes and delivery demonstrations. Furthermore, children became more familiar with nature through experiences such as making nameplates from thinned wood sourced from Sagawa Forests.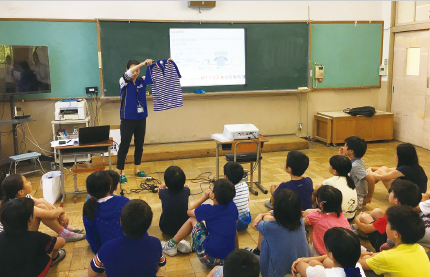 National Eco Art Contest
SG Holdings and Sagawa Express hold a National Eco Art Contest for elementary school students throughout Japan. In 2019, we received 3,005 submissions of artworks based on the theme of "Conveying Messages to Connect the World." The most outstanding work that received the Minister of the Environment Award was used to wrap 64 Sagawa Express trucks, which have driven mainly in major metropolitan areas throughout Japan since February 2020.
Environmental Awareness for Employees
Sagawa Express is implementing "Sagawa Express Environmental Action," in which all employees engage in eco-activities focused on monthly themes, to raise environmental awareness among employees. The company engaged in the reduction of environmental impact throughout the year such as the promotion of an energy-saving campaign and plastic garbage reduction initiative in fiscal 2019.
Forest Preservation
Sagawa Forestry, which owns approximately 700 hectares of Sagawa Forests in Kochi and Tokushima prefectures, conducts a forestry business while cooperating with local forest associations to achieve its greatest mission of "protecting the forest cycle." In Japan, the management drive of forest operators has declined due to stagnation of the price of timber in the long term. As a result, forests have become run down due to failure to perform the necessary maintenance of plantations, and the public benefits normally provided by forests (absorption of CO2, soil preservation, watershed protection, and biodiversity) are being reduced. Considering such social issues, Sagawa Forestry is implementing forestry conservation programs such as planting, brushing, pruning, and tree thinning. The programs entail various annual initiatives and the acquisition of additional forestry assets. Through these programs, the company is implementing forest conservation measures and expanding its timber assets with the aim of realizing sustainable forestry management. In the processed wood sales area, the company delivered construction wood products to support next-generation large-scale logistics center X FRONTIER, completed in January 2020, as well as Atami Park recreational facility used by Group employees and their families. In these ways, the company is contributing to the forest cycle through the promotion of the utilization of timber. Sagawa Express owns approximately 50 hectares of forest in Takao, Hachioji City, Tokyo, and launched the "Takao 100-Year Forest Project" in 2007 for the coexistence of people and nature, and to restore and preserve the satoyama, or the local forest, so that it can be sustained for 100 years. In addition to the preservation and maintenance of forests, we hold environmental classes for employees and stakeholders, and promote activities for raising interest in forests and the environment.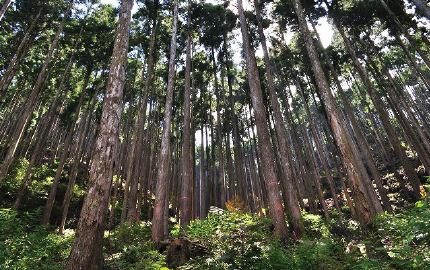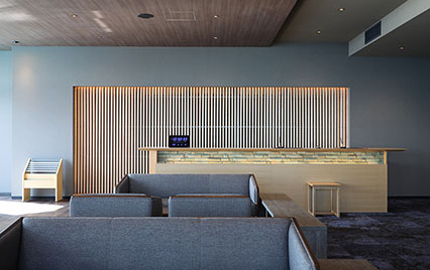 ---
Environmental Activities of Expolanka
Acquisition of External Certification Related to ISO 14064
Expolanka Freight (EFL) obtained external certification in fiscal 2018 related to ISO 14064, which is an international standard on the creation of mechanisms for the quantification, reporting, and verification of greenhouse gas emissions and reductions. In addition to more accurately understanding the emissions and removals greenhouse gases up to Scope 3, management of emissions was also improved.
Forest Plantation Project in Madagascar
With the cooperation of local NGO Mitsinjo Association Parc Andasibe, Expolanka Madagascar is protecting the earth from CO2 emitted worldwide through a project to plant 500 trees in soil previously covered by trees. This initiative is a model enabling future generations to be more considerate of the surrounding environment.
---
Promoting Environmentally Friendly Business Activities