The Relationship between the SG Holdings Group and SDGs
The SG Holdings Group aims for sustained growth by resolving social issues through business as a comprehensive logistics group. When specifying seven material CSR issues, we utilized SDGs as a social perspective and also identified SDGs highly related to us.
Furthermore, in the Mid-term Management Plan Second Stage 2021, a three-year plan starting in fiscal 2019, "contribution to SDGs" is one of our key initiatives. This is because we believe our goal should aim in the same direction as the SDGs, which seek to realize a sustainable society, and we should move forward with it in order to sustain and evolve the logistics business as social infrastructure. We will contribute to the achievement of SDGs through various initiatives in line with the seven material issues.
What are SDGs?
An abbreviation of "Sustainable Development Goals." Seventeen goals and 169 targets adopted at a UN summit in September 2015, where it was agreed that countries worldwide should achieve them over the 15 years from 2016 to 2030 to create a sustainable society. Companies are also required to take action to achieve the goals.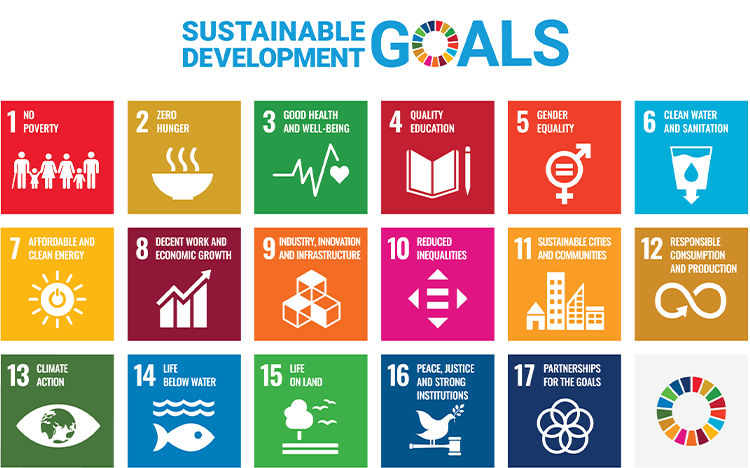 Relationship between material CSR issues and SDGs
The seven issues below have been identified as material issues, and Group companies are implementing initiatives in line with these themes. SDGs that are particularly relevant to them are also described.
Seven Material Issues
Related SDGs
Providing Safe and Secure Services

The total distance traveled by the Group in its transportation business is about 610 million kilometers in Japan alone, and the number of vehicles owned totals approximately 27,000. Minimizing the impact of traffic accidents fiscal 2019 is the responsibility of everyone involved in this business.

One of the sustainable development goals(SDGs) established by the United Nations is to "halve the number of global deaths and injuries from road traffic accidents by 2020" and we are committed to this goal.

Promoting Environmentally Friendly Business Activities

The Group is engaged in Goal 7 : Affordable and clean energy and Goal 13 : Climate action due to the impact og the use of energy by vehicles and various types of equipment in distribution facilities through the logistics business.

Building an Organization of Diversity and Inclusion

Our main business is logistics,and that business involves a lot of people.Maintaining and rasing the morale of our people is an important task for us.
As many of our workplaces are predominated by men, it is our aim to realize Goal 5 : Gender Equality and Goal 8 : Decent Work and Economic Growh.

Creating New Value Through Comprehensive LogisticsSolutions

We will contribute to the reduction of environmental impact, the creation of livable communities, annd the development of indusry through the improvement of efficiency of logistics and the utilization of technology.

Contributing to Communities

As a corporate group that does business in a wide range of places, both domestically and abroad, we are actively committed to the pursuit of Sustainable Development Goals(SDGs) for the environment, economy, and society.

Promoting Sustainable Procurement

20,In coordination with more than 20,000 business partners (as of March 31, 2020), we will not only conduct business with consideration for human rights and the environment, but also copperate in a variety of areas such as contributing to environmental issues and local communities, ultimately contributing to the achievement og the SDGs as a whole.

Building a Responsible Management Foundation

Corporate governance, compliance, and risk management are the foundation of our business. These are important issues, connected to all our business activities. Initiatives to construct sustainable management systems contribute to our efforts to achieve SDGs overall.