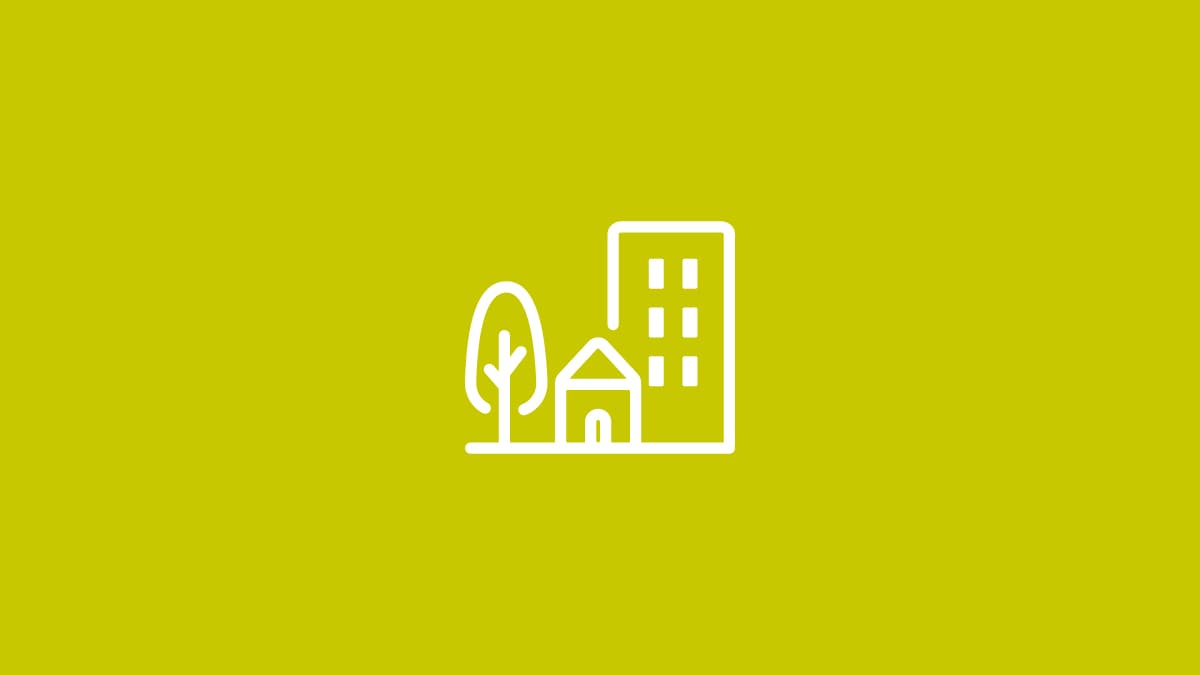 Awareness of Social Challenges
At the SG Holdings Group, we engage in a wide range of businesses in 29 countries and regions (as of April 1, 2020). The people in those places are the foundation of our business, and helping to maintain a healthy society is extremely important for the sustainability of our business. In Japan, revitalizing regional communities amidst a declining and aging population is a pressing issue.
Outside Japan, narrowing the gap between rich and poor in emerging nations is a global issue. In the places where we do business, both inside and outside Japan, infrastructure companies must bear responsibility for disaster preparedness, and support efforts when disasters happen.
Policy
We act based on our Charter of Corporate Conduct, which is our declaration to earn the trust and empathy of society, and our Code of Ethics and Conduct, which outlines the specific details. These policies express support for and cooperation with local governments, services for the development of regions, fostering future generations, and contributing to overseas communities. In line with them, we carry out a wide range of measures from a comprehensive perspective that embraces concerns for the environment, economy, and society of regional societies.
Municipalities in Japan face a diverse range of issues. We work with municipalities throughout Japan, based on "comprehensive regional revitalization partnership agreements." We assess their needs, and work actively with them to resolve the issues they face.
Systems
Sagawa Express has over 400 business offices throughout Japan, and works hard to contribute to society in every place where it does business.
Regional Japan faces a growing array of challenges, and many local governments are taking proactive steps to build attractive, livable communities. Sagawa Express matches its strengths with the needs of the municipalities, makes comprehensive partnership agreements for regional revitalization with them, and then devotes itself fully to solving their problems. As of May 31, 2020, it has formed partnerships with 21 prefectures and 9 cities across Japan. These agreements are broad in scope, covering everything from economic revitalization to disaster recovery. Examples include contributing to tourism through the promotion of "Hands-Free Travel," building systems to help distribute and sell local products, and transporting relief supplies during disasters. To help build more secure and comfortable communities, we are also advancing initiatives that address social issues, including fostering children and youth, supporting the elderly and people with disabilities, and conserving the environment.
History of Partnership Agreements Formed
2015
Jun.
Hirado City
2016
Mar.
Kyoto Prefecture
Yamanashi Prefecture
Aug.
Osaka Prefecture
Yokohama City
Tochigi Prefecture
Oct.
Okayama City
2017
Feb.
Kagoshima Prefecture
Miyazaki Prefecture
Mar.
Niigata City
Kumamoto City
Gunma Prefecture
Shimane Prefecture
May.
Yamaguchi Prefecture
Aug.
Nagoya City
Oita Prefecture
Sep.
Kochi Prefecture
Ehime Prefecture
Oct.
Mie Prefecture
Dec.
Shizuoka City
2018
Jan.
Tottori Prefecture
Feb.
Okayama Prefecture
Mar.
Hiroshima City
May.
Hokkaido
Aichi Prefecture
Jul.
Saga Prefecture
2019
Mar.
Kagawa Prefecture
Saitama City
Takatsuki City
Apr.
Miyagi Prefecture
2020
Jan.
Iwate Prefecture
Goals and Results
Boundary
Medium- to Long-term Goals
Fiscal 2019 Results
SG Holdings Group
Contribution to sustainable urban development
● Increase in the number of disaster agreements concluded
● Increase in the number of cases of mixing freight and passengers
Promotion of regional industry and tourism
● 14 Hands-Free Travel locations
● Increase in the number of comprehensive partnership agreements for regional revitalization
Promotion of education aimed at development of next generation
● Initiatives to support sports
In fiscal 2019, we made progress toward our medium- to long-term goals: creation of sustainable communities, promotion of local industry and tourism, and promotion of education for the next generation.
Regarding the creation of sustainable communities, we continued to conclude disaster agreements, and participate in disaster preparedness training, so that we are in a position to help municipalities when disaster strikes. Regarding the promotion of local industry and tourism, in fiscal 2019, we formed comprehensive partnership agreements for regional revitalization with another two prefectures. In terms of initiatives for the promotion of education for the next generation, the SG Holdings Group supports the All-Japan High School Ekiden Championship, among other events.
Initiatives
Contribution to the Creation of Sustainable Communities
Maintaining Regional Infrastructure (mixing freight and passengers)
Sagawa Express is promoting mixed freight and passenger transport. Low passenger demand caused by population decline and aging has made it difficult for communities, especially those experiencing depopulation, to maintain infrastructure and secure labor for transportation. By marrying different transport modes, the company is pressing forward with methods for transporting both freight and passengers by making use of excess capacity in each mode, thereby solving their respective issues.
By reducing truck shipments, this not only benefits the environment through reduced CO2 emissions, but it also helps maintain buses, trains, and other transport infrastructure that provides essential services to community residents.
In addition to railway, bus, and shared taxi deliveries, in fiscal 2018 we began deliveries using passenger taxi service. Then in fiscal 2019, Sagawa Express, Japan Post, and Yamato Transport jointly launched Japan's first mixed freight and passengers delivery service on March 23 using village-operated buses.
Time Period
Names of Implementing Business Operators
Summary of Activities
2018
Feb.
Ugokotsu
Pilot test between Yurihonjo City and Nikaho City and between Funagawa and Kitaurayumoto in Oga City, Akita Prefecture.
Mar.
Akita Chuo Kotsu
Jun.
MK
Began providing same-day baggage delivery service using shared taxis between Kansai International Airport and locations in Kyoto City.
Oct.
Yamashiro Yasaka Kotsu
We started using regular taxis for mixing freight and passengers in Kasagi, Soraku. This initiative to use regular taxis for package delivery was the first of its kind anywhere in Japan.
Nov.
HEY Taxi
Start of using regular taxis for mixing freight and passengers in Toma, Kamikawa, Hokkaido.
Dec.
Teshio Hire
Start of using regular taxis for mixing freight and passengers in Horonobe, Teshio, Hokkaido.
2019
Apr.
JR Hokkaido
Start of mixing freight and passengers between Wakkanai Station and Horonobe Station on the Soya Main Line.
Nov.
Matsuura Railway
Matsuura Railway Nishi Kyushu Line starts mixed freight passenger delivery service between Matsuura Station and Senryugataki Station.
2020
Mar.
Nishimera Village Bus
Sagawa Express, Japan Post, and Yamato Transport start mixed freight passenger delivery service using village-operated buses in Nishimera Village, Miyazaki Prefecture.
[Case Study]: Working with Regular Taxis
Working with Yamashiro Yasaka Kotsu to mix freight and passengers, serving the area of Kasagi, Soraku in Kyoto Prefecture. Taxi drivers from Yamashiro Yasaka Kotsu pick up packages at the Sagawa Express Kyotoseika Sales Office, load them into their taxis, and then go about their regular passenger business. They collect or deliver packages when there is a lull in their passenger business, or at other times when they are not serving passengers.
By doing both of these jobs, they enhance the efficiency of the package delivery business while also reinvigorating the regional passenger transportation business.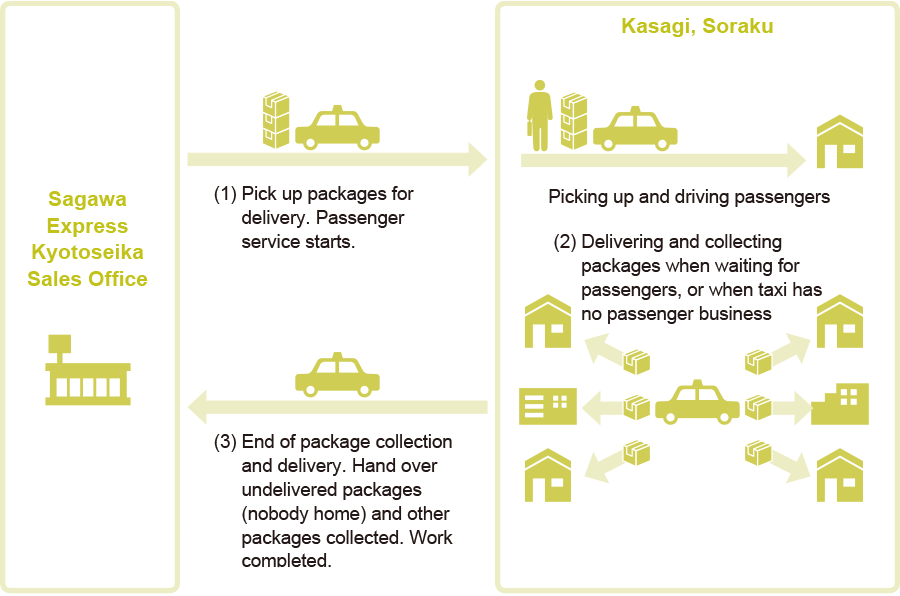 Reconstruction Support for Local Governments in Disaster Areas
We have concluded Disaster Agreements with 77 local government bodies and other entities (as of June 30, 2020). In fiscal 2019, we participated in training exercises with 9 municipalities.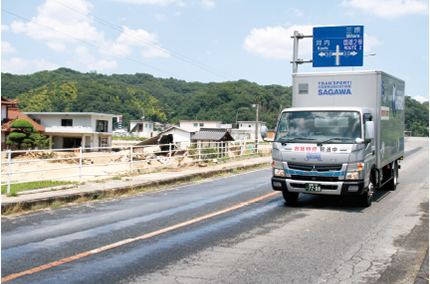 Disaster-recovery support for Marumori Town, Miyagi Prefecture
On October 12, 2019, Miyagi Prefecture was struck by typhoon No. 19, which brought record rainfalls. Based on a partnership agreement with Miyagi Prefecture formed in April 2019, we responded to a request from the prefecture to provide disaster relief transport to Marumori Town. During the relief effort, we transported goods on a regular schedule between the town's gymnasium and the evacuation center, providing critical Last One Mile delivery support.
Promotion of Local Industry and Tourism
"Hands-Free Travel" Service
"Hands-Free Travel" is one element of our comprehensive agreements with municipalities. This means transporting visitors' luggage to their next accommodations, allowing the tourists to spend the day without the burden of luggage. Hands-Free Travel encourages longer-distance excursions, thereby promoting tourism and revitalizing areas throughout Japan.
Expanding Sales Routes for Regional Produce
In 2017, Sagawa Express began working with Nousouken Corp. to expand sales routes for regional produce by offering farmers a way to ship their products directly.This became a full-fledged business in January 2019.Through this initiative, farmers can use the Nousouken platform to sell their produce directly to urban consumers, via the farm products depot at the Sagawa Express Nagano sales office. In fiscal 2019, after launching full-scale services in Suzaka City, Nagano Prefecture, a collection and shipment site for agricultural products was opened in Fuefuki City, Yamanashi Prefecture using Sagawa Express facilities. In this way, consumers in cities and elsewhere can purchase fresh, high-quality produce that has been lovingly produced by the farmers.
Education for the Next Generation
Work Experience
At Sagawa Express, we offer elementary and middle-school students opportunities to experience what it's like to work sorting packages, and loading them on hand carts for collection and delivery.
Sagawa Express is also a supporter of work experience events for children organized and run by the Future Innovation Forum (FIF) since 2007.
Support for Sports
The SG Holdings Group makes various efforts to help educate the next generation through sports.
We have a sports facility in Moriyama City, Shiga Prefecture, which is used for a variety of functions.
All-Japan High School Ekiden Championship

The goal of this event is to support young high-school runners, who will lead the next generation. Male and female athletes from all over Japan separately participated in this event in fiscal 2019, running in Kyoto, where our business got its start.

SAGAWA Sagawa Shiga Football Academy

Sagawa Express sponsors the Sagawa Shiga Football Academy, supporting healthy training of children through soccer.We operate a soccer school for children preschool to middle school and hold soccer events at kindergartens, mainly in Moriyama City.
Clean-up Campaign
Sagawa Express is engaged in the reduction of environmental impact across the board based on the view that it is important for every employee at local sales offices to have a high level of awareness of the environment and actively engage in environmental activities. "Environmental Action" was established in FY2003, and environmental posters specifying monthly environmental initiatives are displayed, while implementing and promoting environmental activities enabling participation by employees.
In May 2019, the company conducted clean-up activities, cleaning up the areas around business offices. In addition to efforts by employees, the company is also coordinating with and participating in social activities such as working with stakeholders outside the company including local companies, local governments, neighborhood associations and schools.
Details of the clean-up activities are as follows.
| | Number of participating employees | Number of participants from outside the company |
| --- | --- | --- |
| Sagawa Express | 10,626 | 2,989 |
*Aggregate of Sagawa Express clean-up activities in May 2019
The SG Holdings Group is also engaged in clean-up activities like those of Sagawa Express in certain other domestic operating companies.
Promotion of Employment of Young People and Global Personnel
The SG Holdings Group hires around 650 new graduates in Japan every year, and also accepts short internships (1 or 2 days) to contribute to the development of local communities and the transportation industry as a whole through work experience.
Furthermore, the auxiliary organization of the SGH Foundation is engaged in providing scholarships for international students and accepting trainees from developing countries and emerging countries. The foundation has provided a total of over 1.2 billion yen in scholarships to 558 students over the 35 years from FY1986 to FY2020, and has also accepted trainees from China and other countries for training in areas such as vehicle maintenance.
The Group company SG Motors employs international students who have studied at Japanese automobile maintenance schools as mechanics, and the number of foreign national mechanics employed reached 85 from eight countries as of July 2020, accounting for approximately 23% of the total for the company.
Please see the linked ESG Data Book for the following information.
※Auxiliary organization activities to support global personnel (international students) P18
Contributions to Global Society
Expolanka Group generates ideas for activities based on SDGs, and make contributions to regions.
Supporting for Children with Disabilities
The UAE Team set up a photo booth at a Family Fun Fair, an event for children with disabilities to enjoy good food and drink, and have fun shopping. The money collected at the booth was contributed to Al Noor, the NPO that held the event.
Eliminating Child Hunger
Our team in the Philippines has begun an initiative, working with Project Pearls to provide meals to 300 children every month.
Food Support for Flood Locations
In Sri Lanka, which has suffered repeated floods in recent years, we provided food supplies for 110 affected families.