Value Creation Story of the SG Holdings Group
The SG Holdings Group targets the entire logistics industry, and has provided customers with value not limited to express package delivery services starting with Sales Drivers nationwide. At present, the Group is providing total logistics solutions by operating a unique business model leveraging a variety of strengths it has developed until now.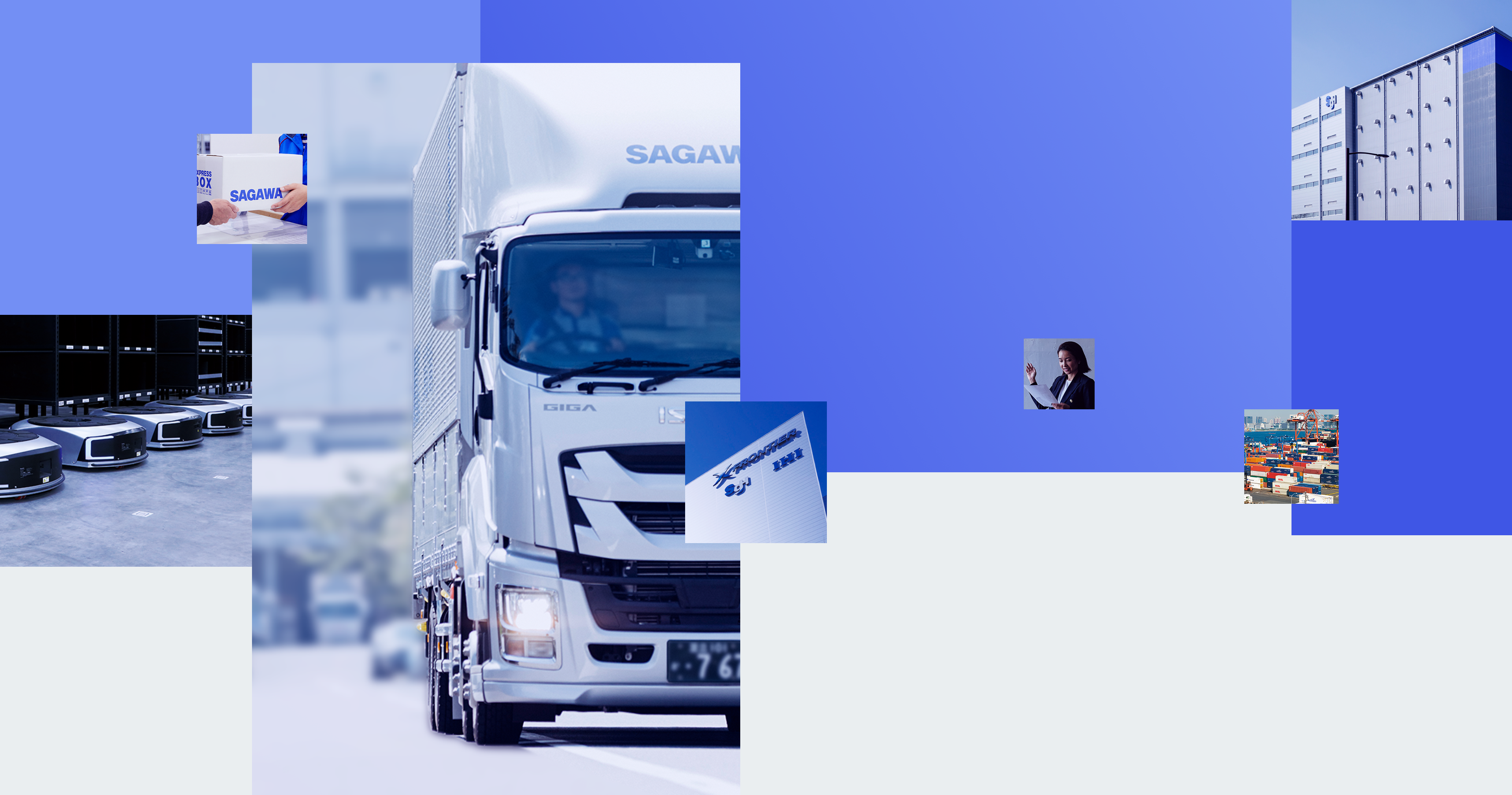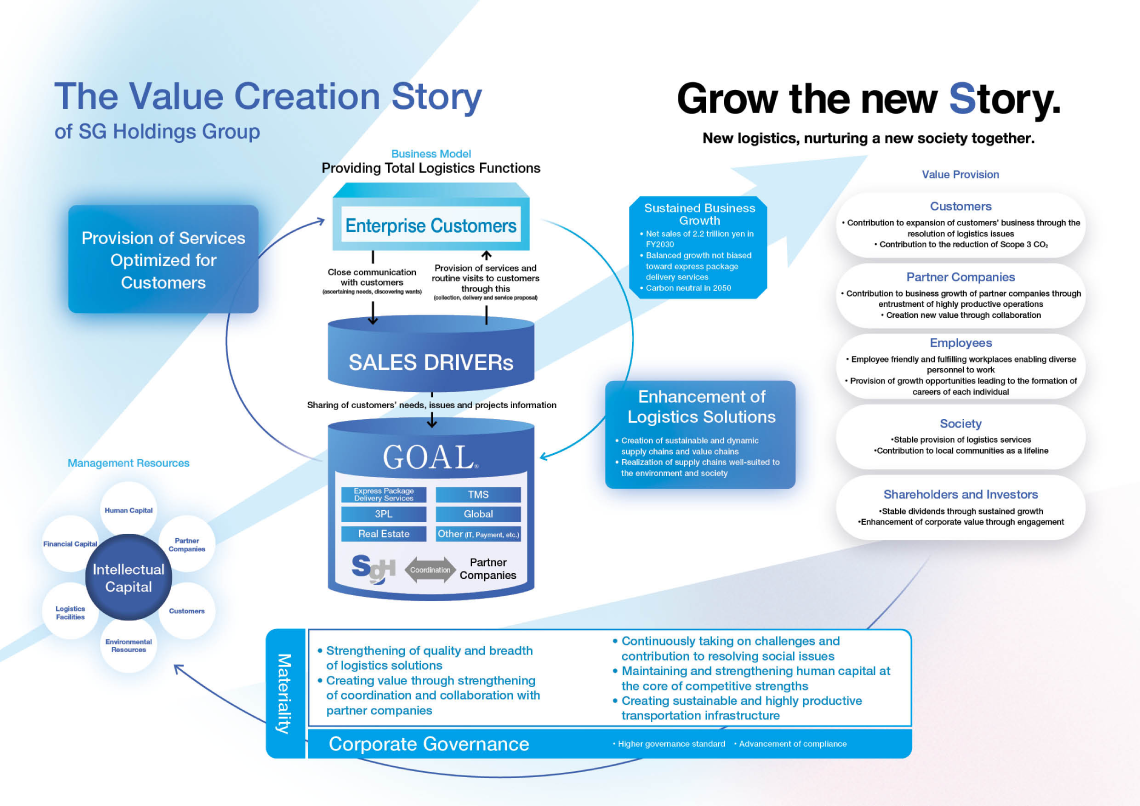 The SG Holdings Group has perpetuated its philosophy from the time of its founding, and has always aimed to provide logistics optimized for the needs of customers while flexibly responding to changes in the environment.
We will continue to strengthen our logistics functions and provide solutions that make customers more competitive, in addition to working toward the enhancement of corporate value and the realization of a sustainable society through engagement with our stakeholders.
Strengths of the SG Holdings Group
- Six Key Assets -
Three competitive strengths
We have constantly considered what we can do for our customers, devoting ourselves wholeheartedly to serving them based on the "Hikyaku no Kokoro" (the spirit of Edo-era express messengers) that has been handed down uninterrupted since our founding, and developed competitive strengths that are the source of value creation.
High-quality information gathering capability and problem-solving capability
Information gathering capability of Sales Drivers
At Sagawa Express, the Group's core company, approximately 27,000 Sales Drivers visit customer companies to collect packages while also placing importance on active communication with customers. Customers' concerns and logistics issues that have not been noticed by customers themselves are often revealed through conversation and Sales Drivers' observations. These sales information account to an enormous volume and are managed in a centralized system.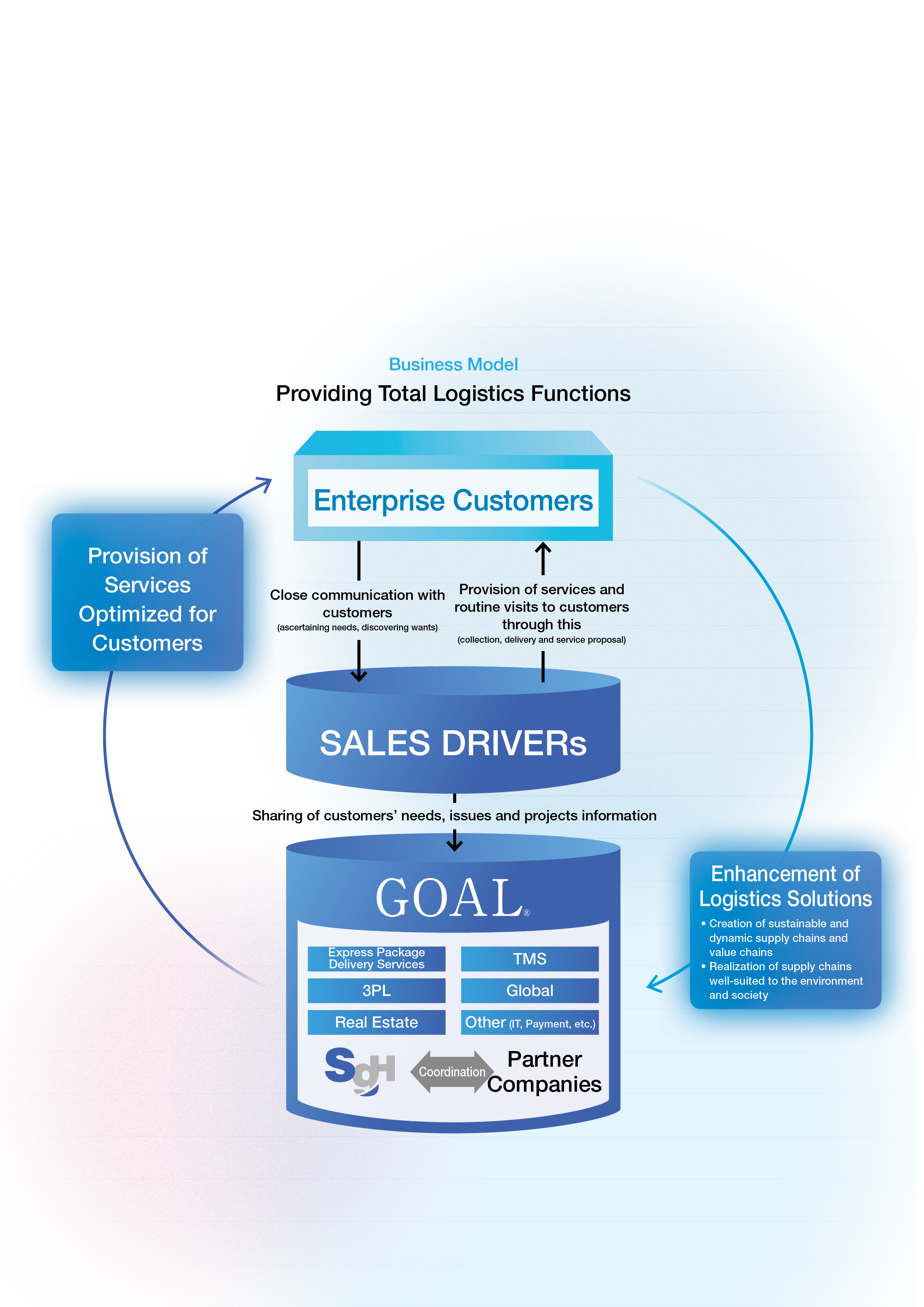 GOAL's problem-solving capability
Our advanced logistics project team GOAL (Go AdvancedLogistics) is a cross-organizational sales team with more than 300 members selected from Group companies for their high level of expertise. In response to the sales information from Sales Drivers that are delivered through the system every day, a team or person in charge is assigned with consideration of their expertise to individually design and propose solutions for each case. A company's logistics has many unique requirements and order-made proposals that meet such unique requirements are suitable for finding the optimal solution. This is the form of sales activity in which the Group best excels as we have provided order-made logistics solutions for each customer company since our founding. Our industry-leading sales force driven by both the information gathering capability of Sales Drivers and the problem-solving capability of GOAL is our first strength.
Future-oriented transportation network supporting companies
Of the three major express package delivery companies in Japan, only Sagawa Express specializes in "from B" (logistics from businesses). For this reason, our express package delivery service network is characterized by being suitable for companies' logistics.
Business locations
Sagawa Express operates a total of 873 business locations, large and small, nationwide (as of March 31, 2022). This number of locations is much smaller than peer companies at around only 20% of the number they operate.
Companies' logistics require collection and shipping of a large volume of varioussized packages. For this reason, Sagawa Express locations are relatively large in its scale, able to handle those large volumes at a single location.
Transportation network optimized for form B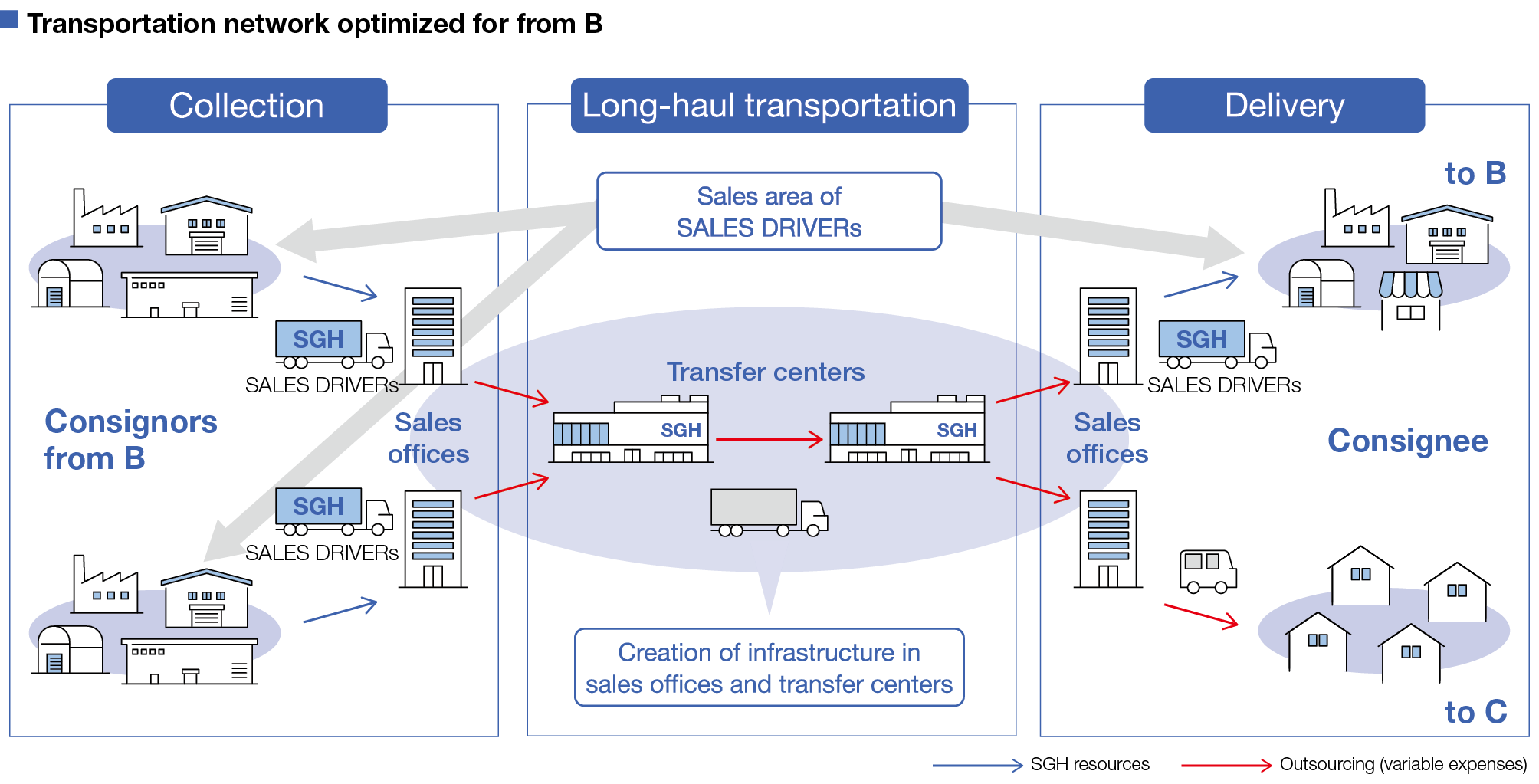 Integrated distribution center
In order to respond to increasingly complex company logistics, we operate integrated distribution centers combining truck terminals and warehouses throughout Japan. The warehouses on the upper floors are used to store products collected from customer companies, operating logistics such as distribution processing and sorting, while the lower floors are used for delivery operations. Handling the series of operations in one location provides added value such as cost reduction and shortened lead time and also contributes to the reduction of greenhouse gas emissions.
Integrated distribution center combining delivery and logistics

"X FRONTIER" – The next-generation lar ge-scale distribution center
X FRONTIER, which was completed at the end of January 2020,consolidated multiple transfer centers in the Kanto region into one location, further evolving the nationwide express package delivery service network.
Furthermore, our domestic and overseas logistics functions, as well as Group companies' logistics functions such as large and special transportation and an EC platform, are concentrated to create new added value through GOAL.
Flexible and strict workplace control eliciting optimal solutions
A network not affected by the number of packages
Sagawa Express actively coordinates with partner companies in line-haul transportation and the last one mile. This enables dynamic responses according to the number of express delivery packages and the creation of a business model in which profitability is not affected by changes in the number of packages. There are approximately 380 line-haul transportation partner companies, approximately 3,600 delivery supporters and approximately 3,000 TMS (Transportation Management System) partner companies. Through close coordination we maintain and improve the quality of the express package delivery services network as a whole.
Thorough profit management seeking optimization
The Company aims to improve the efficiency of management by applying a cycle of using IT to visualize costs, operations and productivity, identify potential improvements based on measurement and analysis and implementing appropriate control. The cost per express delivery package that had previously been managed based on rules of thumb was switched to data driven management from around 2013 and we have achieved increased profitability by setting appropriate freight tariffs and making efforts to receive appropriate freight tariffs.

Provision of Total Logistics Combining Four Business Areas
We are building a logistics network capable of meeting a variety of needs by conducting business specializing in FromB. We will introduce the characteristics and results of each business segment.
Strengthening of
Total Logistics Functions
By leveraging IT to integrate a variety of the Group's functions, we aim to achieve business growth by further strengthening functions of total logistics.
Expansion of Business Areas
In addition to our resources backed by IT, we aim to further expand our business areas through business partnerships including peer companies and venture companies, etc. in other industries.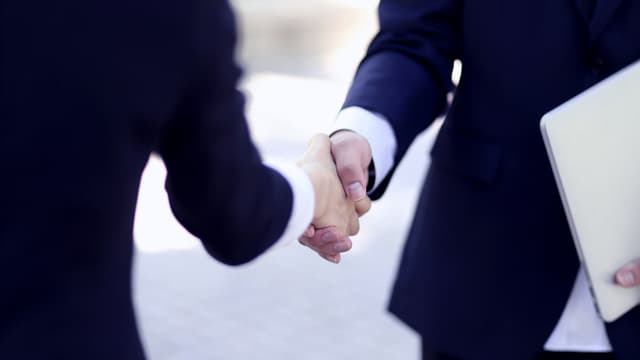 Utilization of Management Resources
We are focusing on utilizing a variety of management resources to enhance domestic transportation, implement multifunctional warehouse operation, strengthen international logistics and expand global business. Furthermore, we are enhancing functions in real estate and other businesses by creating, proposing and providing added value supporting total logistics.