Provision of Evolved Logistics Solutions
Policy
We will strengthen our system, which enables us to propose logistics solutions that meet customers' needs in a wide range of areas from upstream to downstream in the supply chains of customers in a variety of industries and business categories by utilizing the Group's various resources.
For existing customers, we will closely study potential needs and make proposals. At the same time, we develop and provide new services for new markets while also considering collaboration with other companies.
Systems
The SG Holdings Group has formed the "GOAL®" groupwide advanced logistics project team centered on Sagawa Express to resolve companies' management issues through overall optimization of logistics. "GOAL®" forms teams in locations nationwide to provide optimal solutions spanning the Group to address customers' management issues through logistics.
Proposals cover a wide range of areas, spanning customers' entire supply chains from procurement, storage, and processing of raw materials and parts overseas, to delivery to stores in Japan.
Furthermore, it involves not only logistics itself, but also the creation of systems enabling the centralized management of the flow of goods and the provision of a wide range of settlement services to both companies and individuals. We have also established a system enabling us to meet a wider range of needs by working not only within the Group but also coordinating with Hitachi Transport System in recent years. In order to continue to provide optimal logistics solutions to customers in the future, we will further expand the Group's international network and large-scale logistics infrastructure.
Initiatives
Contribution to Building Communities through more Efficient Logistics
Large commercial facilities such as shopping malls used by many shoppers and large building complexes have 200 to 300 tenants. Commonly, hundreds of delivery trucks enter and exit such facilities every day as each tenant places orders for goods to various business operators. At present, it is necessary to address a variety of issues around these facilities, such as traffic congestion and environmental problems.
The Group offers services that lead to the resolution of logistics issues in large complexes and commercial facilities, such as Smart Delivery® for improving the efficiency of the process from purchasing to warehousing and inspection, and Facility Logistics for centrally managing distribution staff, goods, vehicles, and information for large commercial facilities. Through these services, we contribute to the creation of communities starting with large commercial facilities through the improvement of efficiency of logistics. This includes mitigating traffic congestion and reducing environmental impact by reducing the number of vehicles inside and outside facilities, enhancing security, and also implementing safety measures for pedestrians in the areas surrounding facilities.
Smart Delivery®
Sagawa Express has been expanding the "Smart Delivery®" services to dramatically increase efficiency from procurement (stocking) deals to receipt of goods (warehousing/inspection) between businesses.
Packages usually delivered separately by different suppliers are changed to delivery by Sagawa Express, which gather and sort packages by product category or location in its transfer centers and sales offices in advance before delivering them to the final destination as specified by the consignee. Support is also provided for time slot-specific delivery, including late night and early morning.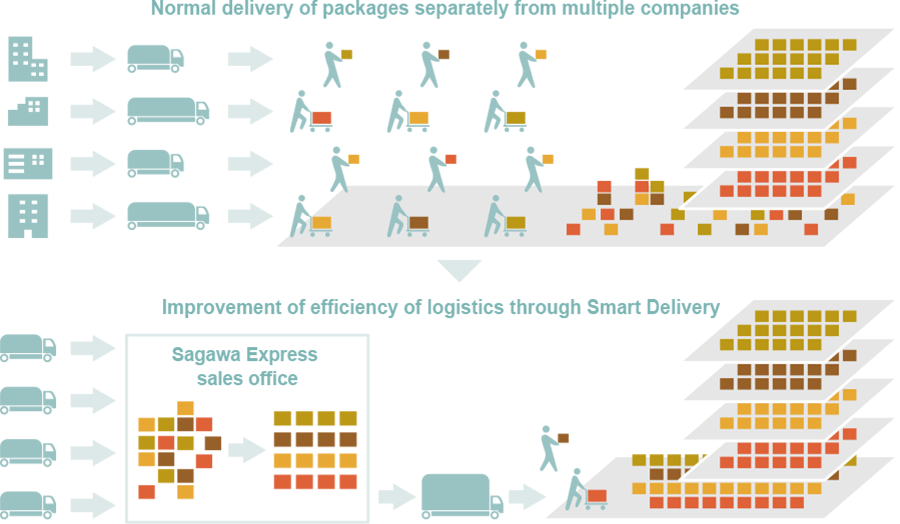 Facility Logistics
Sagawa Express and World Supply provide "Facility Logistics" for centrally managing distribution staff, goods, vehicles, and information entering and exiting large commercial facilities and complexes. Hundreds of vehicles of businesses making direct deliveries to offices and stores each day need to be managed to ensure there is an optimal number of vehicles flowing in to prevent traffic congestion around the building, and the time parked in unloading areas must be kept as short as possible. In the facilities where the Group handles facility logistics, smooth logistics are achieved within the facilities by using a pre-registration system for delivery vehicles to speed up entry procedures and ensure security. The adoption of facility logistics helps mitigate traffic congestion around facilities and also reduce the environmental impact.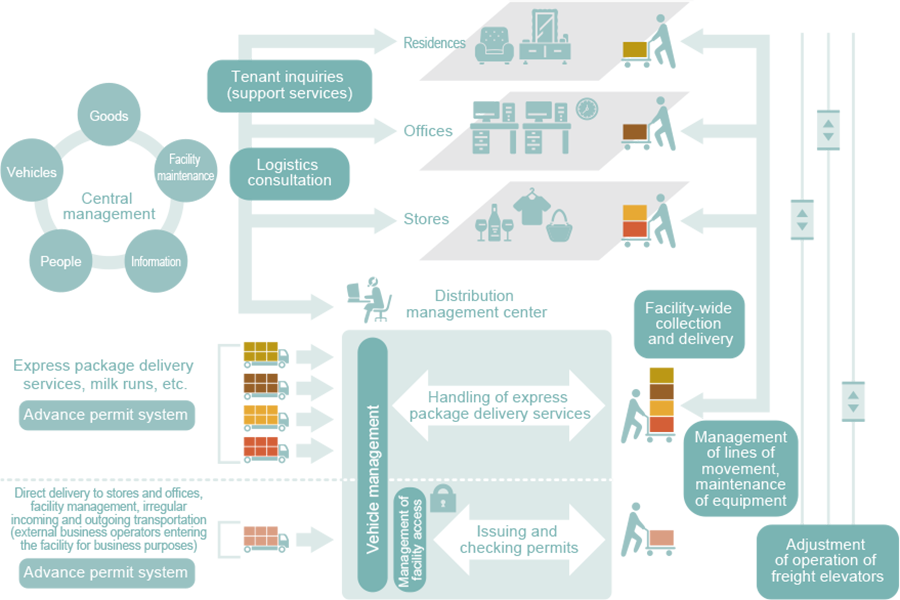 Provision of High Value-added Services in International Logistics
The SG Holdings Group also operates businesses globally, centered on Asia. Overseas, the Group as a whole has created a system supporting the supply chains of customers spanning the globe by strengthening areas such as customs clearance, 3PL (comprehensive logistics outsourcing for enterprises) and local land transportation while remaining focused on freight forwarding. We will continue to contribute to the development of customers' businesses and enrichment of the lives of people living in Asia through the creation of logistics infrastructure in each country in the future.
"Smart Import®" International Integrated Logistics for Japan
"Smart Import®" is a service for enterprises with production sites in countries and regions within Asia. Products are received in logistics facilities on site, and shipped internationally to Japan after undergoing logistics processes such as inspection, assorting, and affixing of domestic delivery invoices. Completing logistics processing overseas has advantages such as (1) reduction of workload in Japan, (2) reduction of cost of return and customs clearance of defective items and (3) shortening of lead time and optimization of costs.
Provision of Logistics Infrastructure Supporting Cross-border E-commerce
SGH Global Japan, which handles international freight business, utilizes its network with Group companies and partner companies in Japan and overseas to provide logistics infrastructure optimized for international e-commerce conducted across national borders (cross-border e-commerce). E-commerce business operators can create transportation networks in new markets in one stop through the utilization of this cross-border e-commerce logistics infrastructure. The Group will contribute to providing greater convenience to e-commerce business operators and e-commerce users, in addition to stimulation of the cross-border e-commerce markets through the provision of high-quality, reliable logistics infrastructure.
Cold Supply Chain Support in Vietnam
In collaboration with Japan Overseas Infrastructure Investment Corporation for Transport & Urban Development (JOIN), SG Motors is supplying vehicle-mounted frozen and refrigeration equipment* in Vietnam required for cold supply chain management. SG Motors established an operational company (SG Motors Vietnam) in the VSIP Bac Ninh outside Hanoi to manufacture, sell, and provide maintenance for vehicle-mounted frozen and refrigeration equipment as well as equipment-mounted vehicles. The equipment and vehicles enable logistics with three temperature zones (dry, refrigerated, and frozen). Logistics demand in Vietnam is growing in tandem with its rapid economic growth. Cold supply chain management technologies are still lacking in the local market, leading to demand for cold supply chain solutions from local Japanese companies as well as large local retailers.
*The equipment is powered by the vehicle engine while maintaining the mounted freezer temperature at -18°C or lower and circulating the cold air to maintain the refrigerator temperature at +5°C.
Approach to Wider Target Audience by Deeper Penetration and Additional Value Creation
The Group performs a variety of transportation of goods other than express package delivery services. Group companies and partner companies will work together to provide added value to meet the varied logistics needs of customers in order to contribute to customers' businesses and socioeconomic development through the logistics business.
Vaccine Transportation
It is necessary to safely transport vaccines to vaccination sites to extend COVID-19 vaccination throughout Japan. The "GOAL®" groupwide advanced logistics project team has been entrusted by numerous local governments nationwide to operate vaccine delivery sites and deliver vaccines to vaccination sites. Sagawa Global Logistics has received recognition for its track record and knowhow in pharmaceutical logistics, locations with good access to urban areas and suitable facility environments, and has been entrusted with the operation of vaccine delivery centers (intake, inspection, storage, sorting, etc.) as a result. Furthermore, Sagawa Express handles the delivery of vaccines from storage warehouses to vaccination sites using dedicated vehicles. Due to the characteristics of vaccines, expertise is required to efficiently deliver them to more sites within a limited timeframe. Depending on the details of the tasks entrusted, it is sometimes necessary to deliver vaccines to up to hundreds of locations in a single day, and the vehicle allocation knowhow developed to date is being utilized to efficiently transport vaccines.
---
Mitsuboshi telegram service combining traditional crafts with telegrams