Provision of Evolved Logistics Solutions
Policy
We will strengthen our system, which enables us to propose logistics solutions that meet customers' needs by covering a wide range of areas with the Group's services from upstream to downstream in the supply chains of customers in a variety of industries and business categories.
For existing customers, we will closely study potential needs and make proposals. At the same time, we develop and deploy new services for new markets while also considering collaboration with other companies.
Systems
The SG Holdings Group has formed the "GOAL®" project team centered on Sagawa Express to resolve companies' management issues through overall optimization of logistics. "GOAL®" consists of regional teams with a total of approximately 242 members nationwide (as of July 1, 2020). It resolves customers' logistics issues across the Group.
Proposals cover a wide range of areas, spanning customers' entire supply chains from procurement, storage, and processing of raw materials and parts overseas, to delivery to stores in Japan.
Furthermore, it involves not only logistics itself, but also the creation of systems enabling the centralized management of the flow of goods and the provision of a wide range of settlement services to both companies and individuals. We have also established a system enabling us to meet a wider range of needs by working not only within the Group but also partnering with Hitachi Transport System in recent years.
In order to continue to provide optimal logistics solutions to customers in the future, we will further expand the Group's international network and large-scale logistics infrastructure.
Goals and Results
Company
Medium- to Long-term Goals
Fiscal 2019 Goals
Fiscal 2019 Results
SG Holdings Group
Contribution to building communities through more efficient logistics
-

Manage facility logistics
●KANDA SQUARE (Tokyo)
●Daimaru Shinsaibashi Store (Osaka)
●SAKURA MACHI Kumamoto (Kumamoto),

etc.
Promotion of international logistics and provision of high value-added services overseas
-

● Expanded service network by acquiring shares of RUNBOW, based in Shanghai, China
● Launched cold supply chain support business in Vietnam,
etc.

Approach to wider target audience by deeper penetration and additional value creation
-
● Won contract for full management of logistics operations for G20 Osaka Summit
During fiscal 2018, we continued to handle new facility logistics as a contribution to building communities through more efficient logistics. We also endeavored to expand services with high added value in the countries overseas.
Initiatives
Contribution to Building Communities through more Efficient Logistics
Large commercial facilities such as shopping malls used by many shoppers and large building complexes in redevelopment projects have 200 to 300 tenants. Commonly, hundreds of delivery trucks enter and exit such facilities every day as each tenant places orders for goods to various business operators. At present, it is necessary to address a variety of issues around these facilities, such as traffic congestion and environmental problems.
The Group offers services that lead to the resolution of logistics issues in large complexes and commercial facilities, such as Smart Delivery® for improving the efficiency of the process from purchasing to warehousing and inspection, and Facility Logistics for centrally managing distribution staff, goods, vehicles, and information for large commercial facilities. Through these services, we contribute to the creation of communities starting with large commercial facilities through the improvement of efficiency of logistics. This includes mitigating traffic congestion and reducing environmental impact by reducing the number of vehicles inside and outside facilities, enhancing security, and also implementing safety measures for pedestrians in the areas surrounding facilities.
Smart Delivery®
Sagawa Express has been expanding the "Smart Delivery®" services to dramatically increase efficiency from procurement (stocking) deals to receipt of goods (warehousing/inspection) between businesses.
Packages usually delivered separately by different suppliers are changed to delivery by Sagawa Express, which gather and sort packages by product category or location in its transfer centers and sales offices in advance before delivering them to the final destination as specified by the consignee. Support is also provided for time slot-specific delivery, including late night and early morning.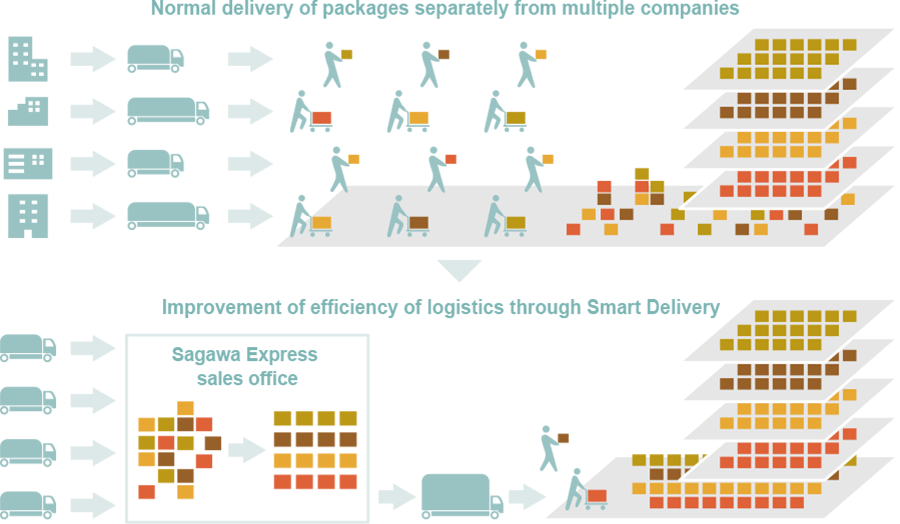 Facility Logistics
Sagawa Express and World Supply provide "Facility Logistics" for centrally managing distribution staff, goods, vehicles, and information entering and exiting facilities.
Having managed logistics for GINZA SIX, Tokyo Skytree®, and Tokyo Midtown, the companies also extended these services to KANDA SQUEARE in 2020. Sagawa Express and World Supply combined have received contracts with 124 facilities in total (as of August 1, 2020).
Hundreds of vehicles of businesses making direct deliveries to offices and stores each day need to be managed to ensure there is an optimal number of vehicles flowing in to prevent traffic congestion around the building, and the time parked in unloading areas must be kept as short as possible. In the large commercial facilities where the Group handles facility logistics, smooth logistics are achieved within the facilities by using a pre-registration system for delivery vehicles to speed up entry procedures and ensure security.
The adoption of facility logistics helps mitigate traffic congestion around facilities and also reduce the environmental impact.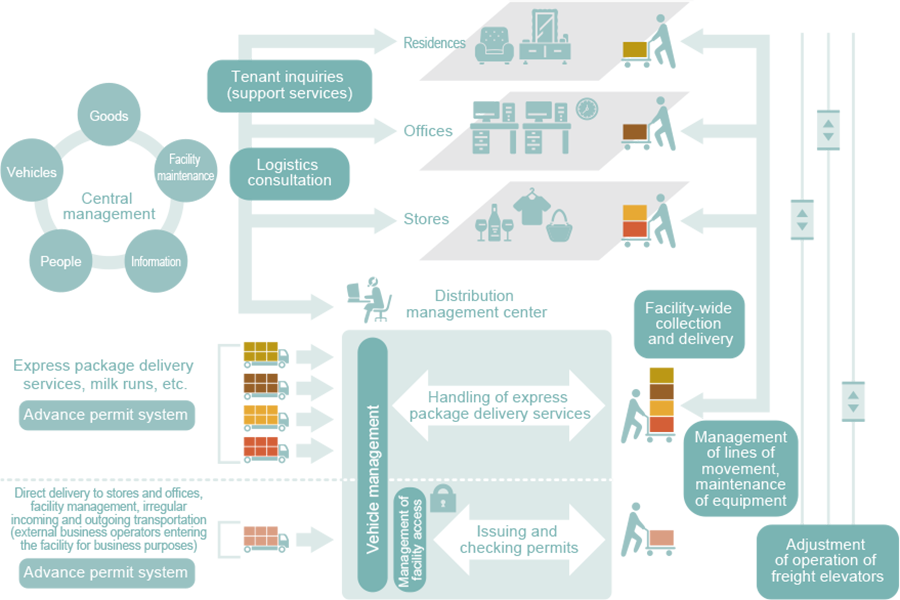 Provision of High Value-added Services Overseas
The SG Holdings Group conducts business in overseas markets centered on the rapidly growing Asian region. In addition to operating a freight forwarding business, which is our core business, we also provide high value-added services from upstream to downstream in customers' supply chains by strengthening businesses surrounding logistics, such as customs clearance, 3PL (comprehensive logistics outsourcing for enterprises), and local land transportation. We will continue to enrich the lives of people living in Asia through the creation of logistics infrastructure in each country in the future.
Realization of Regular Freight Service in Partnership with Emirates and Qatar Airways
Expolanka Freight has partnered with Emirates and Qatar Airways to conduct global freight arrangement between the Middle East/Asia and the United States by using regional airports in the United States to avoid frequently congested hub airports.
Utilizing regional airports makes it possible to resolve operational safety and environmental problems along with problems with freight delays, enabling us to expect operations to run on time.
Signing of Business Partnership Memorandum with AEON Vietnam
SG Sagawa Vietnam and its affiliates signed a business partnership memorandum with AEON Vietnam in December 2018. The two companies have collaborated in logistics since 2014, and with the conclusion of the memorandum of understanding, they will promote collaboration in stable, safe, secure, and highly reliable business in Vietnam, which is expected to grow further as a consumer market.
Acquisition of Shares in Shanghai-based RUNBOW
In March 2020, Sagawa Global Logistics Co., Ltd. acquired shares in Shanghai Runbow Logistics & Technology Co., Ltd. ("RUNBOW"), based in Shanghai. RUNBOW operates logistics sites in Shanghai, Chengdu, Wuhan, Xian, Tianjin, and Shenyang, boasting a robust customer base led by major multinationals in the apparel and chemical industries. At RUNBOW, Sagawa Global Logistics is deploying its warehouse operation improvement technologies, warehouse management systems (WMS), and labor-saving and automation technologies accumulated over the years in the third-party logistics (3PL) business. In this way, the two companies are generating synergies and providing optimized logistics services in China.
We plan to coordinate RUNBOW's network with the SG Holding Group's international network and expand operations across East Asia to generate synergistic effects in international integrated logistics.
Introduction of "Temperature-controlled Storage" within Company Warehouse in Thailand
In December 2018, SG Sagawa (Thailand) newly installed and began operation of a temperature-controlled storage at a fixed temperature (25℃) within its own warehouse operated within the Bangkadi Industrial Park in Pathumthanee in Northern Bangkok. In recent years, retail stores such as supermarkets and convenience stores have increased in the retail market in Thailand, and the number of products such as food and precision components requiring quality management is increasing. In order to respond to these needs, equipment such as air conditioning and insulation were installed in the warehouse to enable fixed-temperature (25℃) management. The new facility is capable of offering safe, secure, and high-quality temperature-controlled distribution services as a logistics base that leverages the geographical advantage, which allows it to be utilized as a hub for products to be exported from the industrial park as well as delivery to central Bangkok and other parts of the country by making use of the main highway nearby.
Cold Supply Chain Support in Vietnam
In collaboration with Japan Overseas Infrastructure Investment Corporation for Transport & Urban Development (JOIN), SG Motors Co., Ltd. is supplying vehicle-mounted frozen and refrigeration equipment*1 in Vietnam required for cold supply chain management. SG Motors established an operational company (SG Motors Vietnam) in the VSIP Bac Ninh outside Hanoi to manufacture, sell, and provide maintenance for vehicle-mounted frozen and refrigeration equipment as well as equipment-mounted vehicles. The equipment and vehicles enable logistics with three temperature zones (dry, refrigerated, and frozen). Logistics demand in Vietnam is growing in tandem with its rapid economic growth. Cold supply chain management technologies are still lacking in the local market, leading to demand for cold supply chain solutions from local Japanese companies as well as large local retailers. SG Motors is using its cold supply chain technologies and know-how developed over the years in Japan to support small-lot shipments of refrigerated and frozen goods in Vietnam.
*1Vehicle-mounted frozen and refrigeration equipment
Large-sized refrigerator-freezers designed for mounting on vehicles. The equipment is powered by the vehicle engine while maintaining the mounted freezer temperature at -18°C and circulating the cold air to maintain the refrigerator temperature at +5°C.
Approach to Wider Target Audience by Deeper Penetration and Additional Value Creation
The Group performs a variety of transportation of goods other than express package delivery services. In addition to simply carrying goods, we contribute to society from a variety of angles by providing added value during transportation.
Logistics Support for Security at 2019 G20 Osaka Summit
A GOAL® team won a contract from the Osaka Prefectural Police (Headquarters: Chuo Ward, Osaka City) to provide comprehensive logistics management, from custody to deliveries, for materials and equipment used in security details for the 2019 G20 Osaka Summit held June 28-29, 2019. Sagawa Global Logistics used its Maishima SRC (Konohana Ward, Osaka City) as the hub for security equipment custody and management, while SG Moving was tasked with transporting goods weighing more than 100 kg, relying on its specialized know-how of moving and installing large furniture, electronics, and construction equipment. Sagawa Express, meanwhile, provided integrated management for the logistics planning and process management. The Group collaborated to transport approximately 100,000 items of security equipment, equivalent to some 150 large-sized trucks. The Group's comprehensive logistics management, covering custody, warehousing and shipping, transport, and removal, led to significant reductions in time and manpower through the coordinated management processes. This allowed the Osaka Prefectural Police to focus on their mainstay policing and security function.
In September 2019, we received a commendation from the Osaka Prefectural Police for our contributions to security operations.
Logistics Settlement Services at Events
SG Holdings Group provides baggage storage services at outdoor music festivals, marathons, and other major events through Sagawa Express. Many of these events have traditionally allowed only cash settlement, which can cause crowding at booths and other problems. To solve this issue, from 2016, Sagawa Financial began offering multi-settlement devices for cashless payment.
The cashless settlement services raise convenience for visitors and event organizers, while also enhancing safety by eliminating the need to carry cash.
In fiscal 2019, we provided cashless settlement services at the 40th Running Sakurajima marathon held in Kagoshima Prefecture, the major music festival ARABAKI ROCK FEST '19, and MONSTER baSH 2019, following on from last year's event. Going forward, we will continue to participate in many kinds of events with cashless settlement services.
*Effective October 1, 2020, Sagawa Financial merged into Sagawa Systems.
Message Delivery Services to Share Thoughts at Important Moments
Sagawa Humony offers the VERY CARD message delivery service which customers can access through the internet. The service is used for a wide range of occasions, such as sending congratulations on birthdays, Mother's Day, Respect for the Aged Day, and work promotions, and expressing condolences and sympathy. Customers can also combine messages with traditional crafts, flowers, and other gift sets. In 2019, Sagawa Humony launched the industry's first custom-design messages which can be used by companies and others to communicate original messages. In an age of information overload, the services add new value to reinvigorate communication in various settings.
---
Mitsuboshi telegram service combining traditional crafts with telegrams