Policy
The Group believes that it is its responsibility as a company to reduce the use of various resources in business activities and cyclically use limited resources by recycling the resources used as much as possible. In accordance with the Environmental Policy mentioned earlier, we will promote the 3Rs of reusing, reducing, and recycling resources used in the Group, in addition to handling reverse logistics related to recycling through business in order to contribute to a recycling-oriented society.
Goals and Results
Medium- to Long-term Goal
| Boundary | Medium- to Long-term Goal |
| --- | --- |
| SG Holdings Group | Promotion of 3R business throughout the Group as a whole |
Fiscal Year Goals
Boundary
Scope
FY 2021
FY 2020
Base Year
Goal
Deadline
Base Year
Goal
Deadline
Result
Sagawa Express
Industrial waste
FY 2020
-1.0%
March 31, 2022
FY 2019
-1.0%
March 31, 2021
+17.3% year on year
Water used
FY 2020
-1.0%
March 31, 2022
FY 2019
-1.0%
March 31, 2021
+0.2% year on year
The amount of industrial waste generated and water used increased year on year due to the impact of business expansion, such as an increase in the number of packages handled and an increase in large-scale transfer centers, but Sagawa Express is continuing to implement initiatives aimed at the reduction of these.
Initiatives
Reduction of waste through recycling
Adoption of Eco-friendly Uniforms
The Group is promoting green purchasing in which products with a low environmental impact are chosen, and as part of this, the uniforms of Sagawa Express use EcoMark-certified products made by recycling plastic bottles.
Between fiscal 2002 and fiscal 2020, approximately 15.5 million 500 ml PET bottles were recycled through the use of approximately 3.27 million eco-friendly uniforms in the Group. Used uniforms are reused as much as possible and those that cannot be easily reused are collected and recycled as fuel for ironworks. We also use EcoMark-certified gloves for Sales Drivers®.
Number of uniforms
Equivalent number of 500ml PET bottles
Eco-friendly uniforms
(Cumulative total until fiscal 2020)
3.27 million
15.5 million
Process of Making Uniforms
The labels and caps of PET bottles are removed, and the bottles are washed
The bottles are crushed to produce PET flakes
PET flakes are melted to produce fibers
Sewn uniforms are completed

Recycling when replacing vehicles
Vehicles used by Sagawa Express and other Group companies are brought to SG Motors, which recycle them in various ways. Usable vehicles are sold, and other vehicles are also processed in an environmentally friendly manner such as recycling whenever possible. Furthermore, efforts are also made to recycle resources such as promoting thermal recycling using waste oil such as engine oil produced during vehicle maintenance as boiler fuel.
Recovery and recycling of vehicle oil
Recycling of waste related to vehicle maintenance and body manufacturing
Recovery, replacement, and recycling of waste batteries
Collaboration with Outside Groups
The Group is engaged in promoting the reduction of waste through collaboration with outside groups based on the "Promotion of the 3Rs" in the Environmental Policy.
For example, the Sagawa Express Sapporokita Sales Office is working with Hokkaido University Hospital to utilize environmentally friendly containers (foldable containers) not using packaging cardboard when transporting baggage for people being hospitalized and discharged from the hospital. The initiative to create a system playing a role in the promotion of a recycling-oriented society in terms of cost, the environment and social contribution by limiting the generation of waste has been recognized, and received the Minister of the Environment Award for Merit in the Promotion of the Creation of a Recycling-oriented Society in the 13th National Convention on the Promotion of 3R Activities hosted by the Ministry of the Environment, Toyama Prefectural Government and the 3R Promotion Forum.
When Using Foldable Containers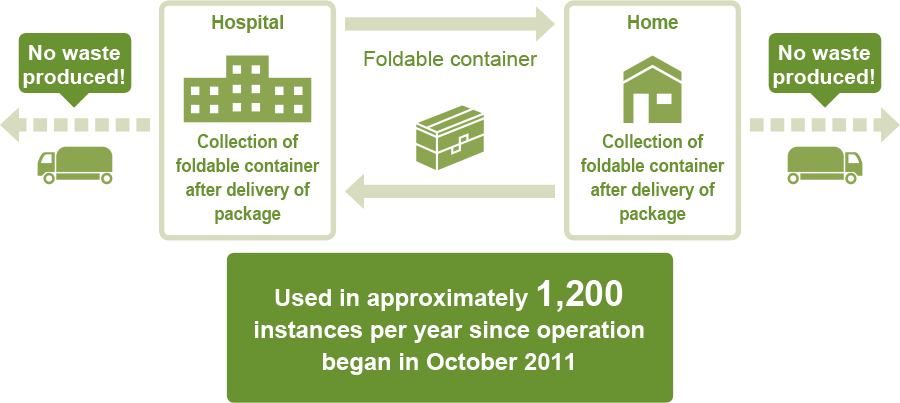 Reverse Solutions
The Group is contributing to the construction of a recycling-oriented society by providing a variety of "reverse solutions" that utilize expertise in reverse logistics related to the processing and recycling of waste.
Pick-up and Repair of Home Appliances (Sagawa Express)
The Home Appliance Repair Service provides a one-stop solution from the pick-up to the actual repair and return of devices in the Home Appliance Repair Center at the Sagawa Tokyo Logistics Center.
In addition, the company has been providing nationwide Home Pick-up Services for Used Small Home Appliances based on the Home Appliance Recycling Act since 2015 as an outsourcing business from ReNet Japan Inc.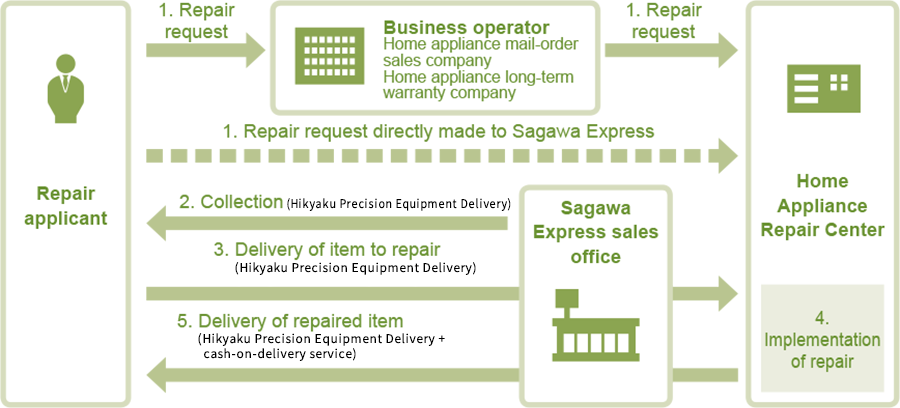 Household Appliance Collection Matching System SG-ARK (SG Moving)
SG Moving offers the SG-ARK® service as an intermediary scheme between electronic appliance retailers and recycled electronic appliance transport companies. Japan's Home Appliances Recycling Act was instituted to ensure that retailers collect four types of household appliances for recycling (refrigerators and freezers, clothes washing and drying machines, air conditioners, and televisions) and deliver them to manufacturers, etc. Retailers use collection and transport companies conducting recycling collection in many cases, and direct contracts are mandated in such cases. For this reason, selecting collection and transport companies nationwide and concluding contracts with them is a significant burden for retailers conducting e-commerce nationwide. The service enables companies approved to collect and transport home appliances to register on the SG-ARK® website for pickup of used goods. When retailers are asked by consumers to collect their used appliances, retailers can easily find a collection and transport company by comparing their transport rates and other information through the website. Contracts are formed electronically, which simplifies procedures and promotes going paperless compared to traditional written contracts. The Home Appliance Recycling Act obliges retailers to issue, manage, and store home appliance recycling tickets. SG-ARK® allows them to digitize and manage home appliance recycling tickets within this system. In this way, the website offers completion of all the necessary processes, from contractor selection to contracts completion and recycling ticket management. SG-ARK® improves household appliance recycling and transport company optimization and increases convenience for both retailers and end users, thereby supporting the creation of a recycling-oriented society conducting sustainable consumption and production.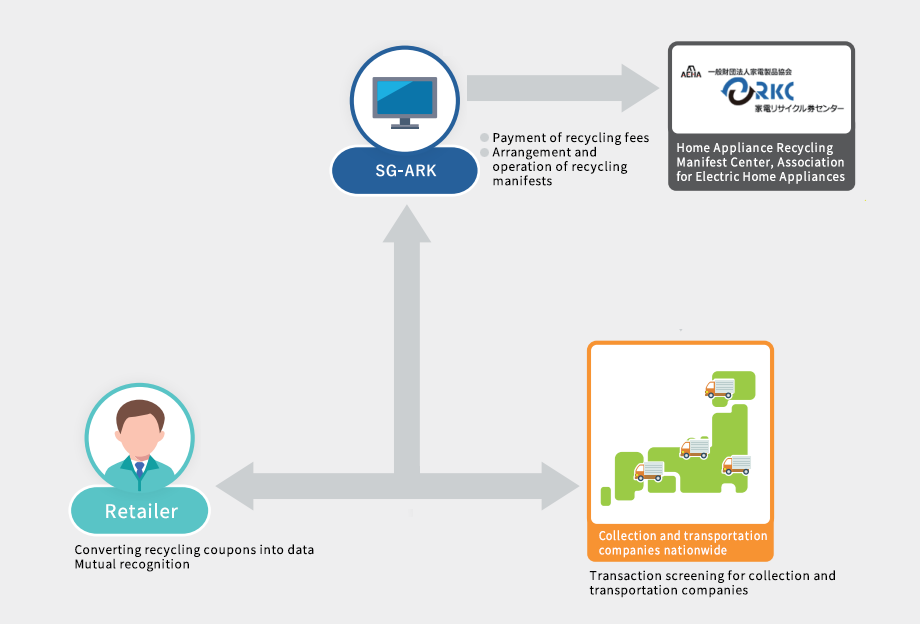 ---
Promoting Environmentally Friendly Business Activities