Messages from CEO and COO
Supporting society in any environment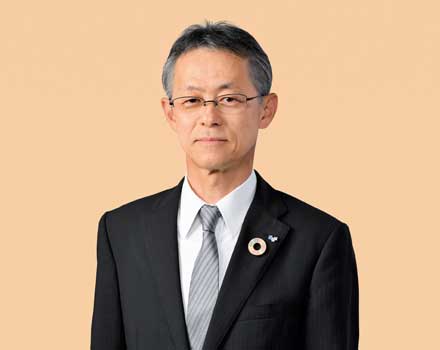 Our ever-evolving Sales Drivers®
The SG Holdings Group's history started back in March 1957, when our founder delivered the very first package. Since the beginning, we have always strived to understand our customers' needs and provide everything in our power. This "Hikyaku no Kokoro," or the messenger's spirit, has endured throughout our history and forms the foundation of our corporate philosophy. Today, as we expand our business area as a comprehensive logistics group, our "express messengers" have evolved into Sales Drivers®. Their roles have also evolved. Our Sales Drivers® no longer simply deliver packages. They communicate with customers on an ongoing basis to grasp their needs and discover their latent logistics issues.
Our cross-functional sales team "GOAL®" is responsible for solving the logistics issues uncovered by sales drivers. We strive to go beyond package delivery by optimizing our customers' entire supply chains and creating innovative, tailor-made solutions.
Our never-ending mission
The logistics industry is a vital part of the social infrastructure, supporting both corporate activity and individuals. It is our mission to contribute to society through logistics under any environment. The business environment surrounding the logistics industry is changing ever more rapidly. Our Group is building a corporate structure to thrive even under severe change, as expressed in the Mid-term Management Plan goal of enhancing the management platform.
In the fiscal year ended March 31, 2020, we successfully opened X FRONTIER® as our next-generation, large scale logistics center. Over the course of fiscal year ending March 31, 2021, we will launch the center's various functions, including international logistics for cross-border EC and other services, large cargo and specialty transport, EC platforms, and transfer center services for express package delivery. X FRONTIER® will not only meet the growing need for express package delivery, but enhance productivity to alleviate driver shortage, which has become a social issue, and innovatively combine the Group's various functions to create new value.
We will continue striving to meet the various expectations of our stakeholders, such as delivering new value to customers and offering stable dividends to shareholders, by flexibly responding to change and achieving sustainable growth,. We are sincerely grateful for your continued support and understanding.
Eiichi Kuriwada
Chairperson and CEO
SG HOLDINGS CO., LTD.

Distinctive business model for sustainable growth
IT-driven management and logistics solutions
I imagine that most of our shareholders share the same image of the SG Holdings Group: the Sagawa Express trucks making rounds in the neighborhood and the delivery personnel making deliveries in their blue-striped uniforms. I also suspect all delivery companies seem very similar.
Therefore, whenever I have the opportunity to speak with shareholders, I always start by clearly and concisely explaining our core capabilities and a unique business model that supports them.
The first core capability of Sagawa Express is that we handle a wide range of packages sizes, from small to large. All across Japan, we have developed transfer sites that can handle various kinds of package type and size, building a high-quality, highly efficient logistics network.
The second core capability is our team of approximately 21,000 Sales Drivers®, whose role continues to evolve with society's changing needs. Originally, their main duties were package collection, delivery, and bill collection. Today, their main role is to gather information on the customer needs and latent logistics issues. This information is fed back to GOAL® to offer optimized logistics solutions to our customers.
To ensure we leverage these two core capabilities to the fullest, we have instituted a total IT optimization program since 2005. In 2014, we also launched a big data analysis platform as part of our efforts to provide IT-based management controls. With this IT infrastructure, we are able to thoroughly and continually manage the profit margins of each and every package, ensuring the stable growth of our business.
Towards sustainable growth
Society changed largely with the evolution of technology. Our customers' needs are diversifying and distribution is becoming more sophisticated and complex. In this environment, as a comprehensive logistics group, we are bolstering our systems and structures to support all the logistics needs of our customers. We are further developing GOAL® by enhancing our distinctive capabilities and aggressively collaborating with companies in the logistics and other industries to strengthen our total logistics functions. Lastly, as demands towards ESG practices increase, we also aim to contribute to the realization of a sustainable society through our business.
On behalf of the entire SG Holdings Group, thank you for your continued support.
Hideo Araki
President and COO
SG HOLDINGS CO., LTD.