SG HOLDINGS GLOBAL
Introduces "temperature-controlled storage" in its Thai warehouse
Corporate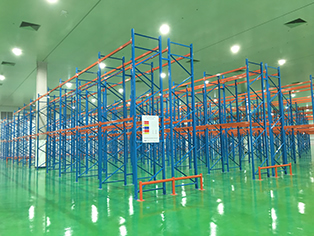 Temperature-controlled Storage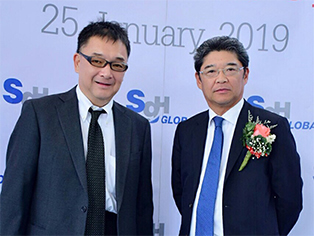 Opening Ceremony (held on January 25)
On December 24, 2018, SG Sagawa (Thailand) Co., Ltd. which is the Thailand subsidiary of SG Holdings Global Pte. Ltd. - the overseas headquarters of SG Holdings Group, has set up and started operation of a temperature-controlled storage (total floor area: 4,186m2) that allows for storage at a fixed temperature (25℃) inside its warehouse premises at the Bangkadi Industrial Park of Pathum Thani Province, which is located to the north of Bangkok.
The climate of this region is characterized by high temperature and humidity throughout the year, and thus products that are susceptible to the influence of temperature and humidity, such as food items and precision machine parts, need to be stored at a constant temperature. In recent years, particularly, the retail market in Thailand has seen an increase in the number of modern retail shops such as supermarkets and convenience stores, and demand for temperature-controlled storage is growing with these stores selling more foreign products and those that require quality control.
To address these needs, new systems such as air-conditioners and heat shield walls have been installed at the said warehouse to enable temperature-controlled management (25℃). Not only does it possess the function of a storage and delivery center for products that require temperature management, it is also equipped with other features, including security management with surveillance cameras installed in the entire building, a warehousing and delivery management system, and hygiene management measures such as pest control for storage of food-related products. Also, the new facility is capable of offering safe, secure and high-quality temperature-controlled distribution services as a logistics base that leverages the geographical advantage, which allows it to be utilized as a hub for products to be exported from the industrial park as well as delivery to central Bangkok and other parts of the country by making use of the main highway nearby.
SG Sagawa (Thailand) will continue to expand its area of business in the logistics sector by enhancing the distribution functions and strive to further improve its service quality so as to meet the diverse logistics needs of our customers.
Outline of Temperature-controlled Storage
Location
Bangkadi Industrial Park, Pathum Thani Province, north of Bangkok, Thailand
138 Moo 5 Tiwanond Road, Tambol Bangkadi, Amphoe Muang, Pathumthani 12000
[Access] Approx. 35km from downtown Bangkok, 130km from Laem Chabang Port and 55km from Suvarnabhumi International Airport
Total Floor Area
Temperature-controlled warehouse 4,186m2 (entire building: 21,046m2)
Main Facilities
Air-conditioning, pest control, container berth and dock leveler, warehousing and delivery management system, surveillance cameras
Commencement
of Operation
December 24, 2018