SG HOLDINGS GLOBAL
Poly-Sagawa Logistics, the local Chinese subsidiary of SG Holdings, launches railroad transport service in China
Corporate
With effect from April 2019, Poly-Sagawa Logistics Co., Ltd., which is the local Chinese subsidiary of SG Holdings Global Pte. Ltd. – the overseas headquarters of SG Holdings Group, will commence full-fledged operation of its railroad transport service that covers North to South China.
1. Background
In the past, trucks were the key mode of land transport for cargos in China. In recent years, however, diversification of the means of transport has been progressing in response to the promotion of the "Belt and Road Initiative (BRI)*" by the Chinese government. In particular, freight transport services via railroad have become increasingly important.
Meanwhile, with environmental issues gaining more attention within China, interest toward railroad transport is expected to rise further as a more suitable transportation option that is in line with the policy of the government as well as the social trends in view of its ability to reduce carbon dioxide (CO2) emission by 88% when compared to the use of trucks.
In response to such a trend, Poly-Sagawa Logistics, the local Chinese subsidiary of SG Holdings Global, will officially launch a railroad transport service with effect from April 2019 that covers North to South China after a half-year trial that was conducted since October 2018.
2. Advantages
By adopting railroad transport, which allows for more punctual operation compared to trucks, a greater certainty in terms of lead time as well as safer operation can be anticipated. In addition, bulk quantities of cargo can be hauled at one time, thus enabling transportation cost to be maintained at the same level as trucking or at a more affordable rate for some routes. Development of such logistics infrastructure not only helps to reinforce the ability to respond to customers' needs, but also builds a foundation for the cross-border logistic function that connects China with the surrounding countries via railroads. Moreover, efforts toward offering more diverse transport services and achieving eco-friendly logistics operations are becoming increasingly important not only for expansion of logistics businesses in China but in other countries as well.
3. Outline of Services
| | |
| --- | --- |
| Date of Official Launch | April 1, 2019 (tentative) |
| Transportation Zones | Between Dalian, Tianjin, Beijing, Qingdao, Guangzhou and Shenzhen (see bottom diagram) |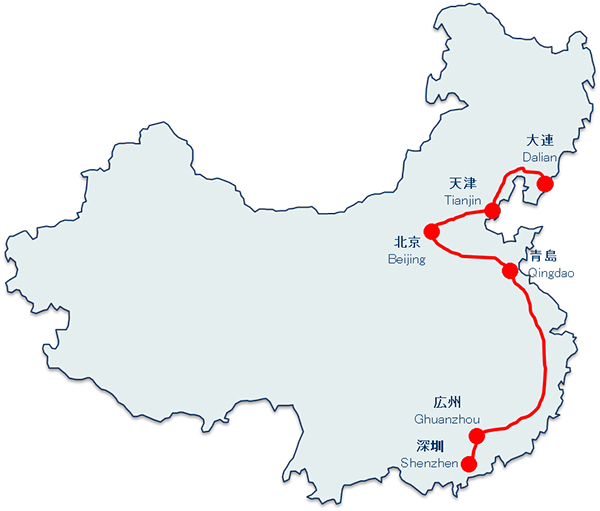 SG Holdings Group will continue to engage in efforts to develop new transport service products that are suited to the features and characteristics of the logistics infrastructure in the respective countries and regions while paying attention to protecting the environment.
* The Belt and Road Initiative (BRI) is a plan to create an economic zone to promote the development of infrastructure, trade and flow of funds in two regions, namely the "Silk Road Economic Belt" (Belt) which stretches from Western China to Europe via Central Asia, and the "21st-century Maritime Silk Road" (Road) which connects the coastal regions of China with Southeast Asia, Sri Lanka, the coasts of the Arabian Peninsula and the east coast of Africa. The initiative was first proposed by Chinese President Xi Jinping at the APEC Economic Leaders' Meeting held in Beijing in November 2014.
Company Outline
| | |
| --- | --- |
| Company Name | Poly-Sagawa Logistics Co., Ltd. |
| Head Office | No. 1077, Yueliangwan Road, Nanshan District, Shenzhen, Guangdong, China |
| President | Go Morita |
| No. of Employees | 116 |
| Line of Business | Freight forwarding, warehousing, international express service, truck transport, etc. |