SG HOLDINGS GLOBAL
SG SAGAWA VIETNAM and AEON VIETNAM SignBusiness Partnership Memorandum
Corporate
SG HOLDINGS GLOBAL PTE. LTD., the overseas headquarters of SG Holdings Group, today announced that Vietnamese subsidiary SG SAGAWA VIETNAM CO., LTD. ("SG") signed a business partnership memorandum with AEON Vietnam Co., Ltd. ("AEON") at SG Sagawa Vietnam Dien Bien Phu Office on November 26. The memorandum comes with the aim of enriching the lives of all people living in Vietnam through the mutual promotion of stable, highly trusted business operations that capitalize on the strengths of both companies, as well as through the facilitation of initiatives and exchanges as social contribution activities.
1.Background and details of the memorandum
AEON entered Ho Chi Minh City with its first Vietnamese shopping mall, AEON MALL Tan Phu Celadon, in January 2014, setting off the development of shopping malls in four locations nationwide together with an online store. AEON is actively moving forward with its general merchandise supermarket (GMS) operations in Vietnam, including plans for 2020 to launch a sixth shopping mall that has been tentatively named AEON MALL Hai Phong Le Chan.
SGV operates as an integrated logistics company in Vietnam, providing integrated logistics solutions across the entire upstream–downstream supply chain. SGV has been developing and expanding its regional network in recent years to provide its customers with comprehensive logistics support for production through to sales. In January 2016, SGV commenced operation of a large-scale multitenant logistics facility at Nhon Trach 3 Industrial Park in Dong Nai Province, southern Vietnam. This was then followed with an M&A deal in December of the same year for a company with a home delivery network spanning all of Vietnam.
Both AEON and SGV have a history of collaborating in logistics. Since January 2014, AEON stores have been running shopping delivery service desks, entrusting SGV with the home delivery of goods using special frozen cool-boxes. In June 2018, SGV commenced a logistics center business providing storage, order management, and home delivery services for the online store operated by AEON.
Now in signing this new memorandum, AEON and SGV intend to lean on the business activities of both companies towards furthering their cooperation in an enterprise that is stable, safe, and offers a high sense of security and trustworthiness while actively pursuing initiatives to contribute to society in Vietnam, a country where further consumer market growth is expected.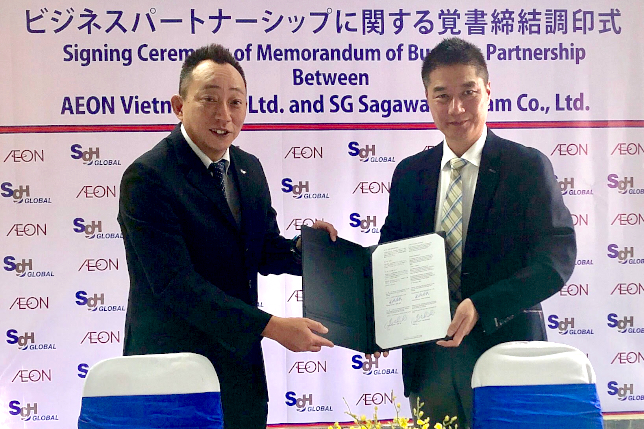 Yasuo Nishitoge (right) of AEON Vietnam Co., Ltd. and Junji Shimazaki (left) of SG Sagawa Vietnam Co., Ltd. signed a business partnership memorandum in Vietnam on November 26.
2.Main points of the memorandum
SGV will focus on its core logistics business in efforts to provide its networks, knowledge, and experience to AEON wherever possible.
AEON will focus on its core retail business and make efforts to share information with SGV wherever possible.
To achieve the above aims, both companies will hold meetings as required, and engage in consultation and the exchange of information.
Reference: Previous press releases concerning SG Holdings Global and Vietnam