SG HOLDINGS GLOBAL
Commencement of Import Customs Clearance Services in Korea
Business
SAGAWA LOGISTICS KOREA CO., LTD. ("SLK") is the Korean subsidiary of SG HOLDINGS GLOBAL PTE. LTD. ("SGG"), the overseas operation headquarters of SG Holdings Group. On 19 June 2014, SLK opened a new warehouse in the Airport Logispark Free Trade Zone ("FTZ") within Incheon International Airport, and commenced import customs clearance services.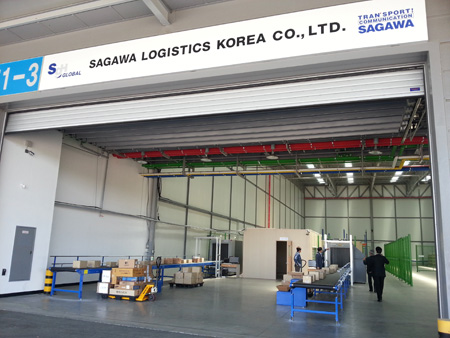 External view of new warehouse
With the progress in the negotiations on Free Trade Agreements ("FTAs") between the countries of Japan, South Korea and China, future movement of e-commerce goods is expected to become more buoyant. SLK anticipates that trans-boundary e-commerce cargo from overseas will become a greater area for growth, as can be seen from the increase in current handling volumes. In addition to the courier and freight forwarding services that it currently offers, SLK has opened this new warehouse in the Airport Logispark FTZ, within Incheon International Airport, and will provide import customs clearance services within the warehouse for inbound e-commerce cargo into Korea. Initially, it will handle about 120 thousand items of import cargo from overseas agents, and is projected to handle 250 thousand items next year.
SGH Group hopes that by setting up this import customs clearance facility, we can offer a reliable and cost-competitive e-commerce cargo handling service within Korea, which in turn, will lead to strengthening our Japan and overseas network. At the same time, our Group aims to promote synergy with the existing courier and regular air-freight cargo business, and through this, multiply the growth of SLK and the Group's overseas businesses, while providing more convenience and additional logistics solutions to our customers.
New Warehouse
| | |
| --- | --- |
| Size | About 1,700 m2 (Warehouse space: 1,500 m2, office space: 200 m2) |
| Main facilities | X-ray inspection machine (2), Real-time cargo identification system, Automatic cargo sorter |
ompany profile
SGG
| | |
| --- | --- |
| Registered name | SG HOLDINGS GLOBAL PTE. LTD. |
| Established | June 2012 |
| Office | 150 Beach Road #28-01/02 Gateway West, Singapore 189720 |
| Representative Director | Naosuke Kawasaki |
| Capital | USD 170.5 million (as of May 2014) |
SLK
| | |
| --- | --- |
| Registered name | SAGAWA LOGISTICS KOREA CO., LTD. |
| Established | October 2008 |
| Office | A-2001 Woorim Blue 9, 583 Yangcheon-ro Gangseo-gu Seoul, Korea |
| Managing Director | Kazuyoshi Matsumoto |
| Capital | KRW 2 billion (as of May 2014) |
| Business Contents | Courier, freight forwarding, warehousing etc. |