SG HOLDINGS GLOBAL
Commencement of a small lot consolidated transport service in industrial parks around Bangkok
Business
SAGAWA EXPRESS THAI CONTAINER DISTRIBUTION SERVICES CO., LTD. ("STCD") is the Thailand subsidiary of SG HOLDINGS GLOBAL PTE. LTD. ("SGG"), the overseas operation headquarters of SG Holdings Group. Recently, STCD started offering a small lot consolidated transport service* in industrial parks around Bangkok.
In Thailand, where numerous Japanese manufactures have operations in industrial estates around Bangkok, the demand for quality transport of small lot cargo, similar to those services available in Japan is increasing. In order to meet this increasing demand, STCD began a small lot consolidated transport service in January this year. This service aims to provide, as a standard, the same next day delivery service as in Japan, alongside other functions, such as cargo tracking, payment upon delivery and receipt return services. With these, we are able to fulfil the customers' needs of "cost-effective next-day-guaranteed delivery". This service is initially offered to industrial parks in 4 industrial regions (North region, North-East region, East region and Central region) within a 200km radius of Bangkok,. This will be expanded progressively to cover smaller scale industrial parks, and industrial estates in other regions, such as Chiang Mai., in northern Thailand.
The logistics market within the 5 major ASEAN countries is enlarging year after year. In Thailand where the need for logistics between enterprises, especially Japanese companies, has been escalating, STCD has also been expanding its business, successfully tendering delivery contracts with Thailand Tobacco Monopoly since 2012, to transport not only tobacco raw materials, but also finished goods to 1st-tier distributors throughout Thailand.
SGG is currently developing the services of freight forwarding, courier, customs clearance, warehousing, 3PL, and trucking in 22 companies across 14 countries; and as the introduction of this small lot consolidated transport service shows, we will continue to offer total comprehensive services that cater to each region' s particular needs.
*Small lot consolidated transport service: A service that collects small lot cargo from multiple customers using a single truck and consolidates the cargo before deliver to the required destination.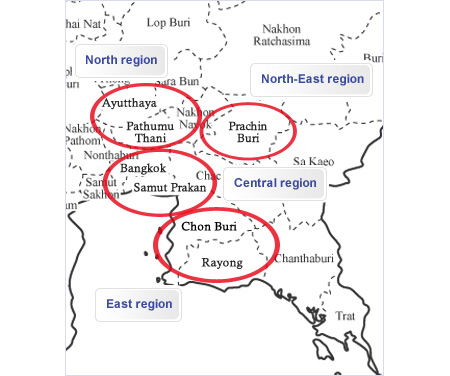 Industrial parks around Bangkok offering the small lot consolidated transport service.
Company profile
SGG
| | |
| --- | --- |
| Registered name | SG HOLDINGS GLOBAL PTE. LTD. |
| Established | June 2012 |
| Office | 150 Beach Road #28-01/02 Gateway West, Singapore 189720 |
| Managing Director | Naosuke KAWASAKI |
| Capital | USD 80.5 million |
STCD
| | |
| --- | --- |
| Registered name | SAGAWA EXPRESS THAI CONTAINER DISTRIBUTION SERVICE CO., LTD. |
| Established | June 1989 |
| Office | 138 Moo 5 Tiwanond Road, Tambol Bangkadi, Amphoe Muang, Pathumthani 12000 Thailand |
| Managing Director | Makoto ARAI |
| Capital | THB 103 million |